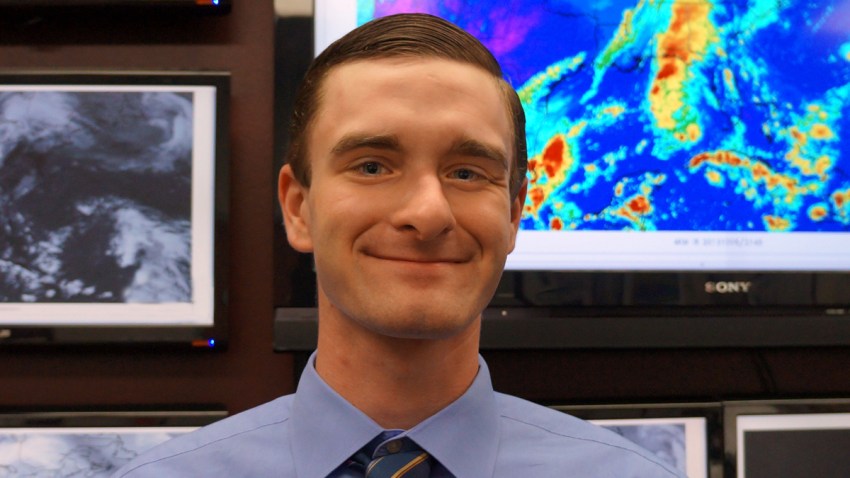 Joshua Johns, a senior meteorology major at Texas A&M University is the 2013 Harold Taft Scholarship winner. The scholarship is named after the legendary meteorologist who served North Texas viewers at NBC 5 from 1949 until 1991.
Johns' hometown is the Johnson County town of Godley. He grew up watching various meteorologists on Dallas/Fort Worth television. Johns wrote in his scholarship application essay that Harold Taft inspired him after a rough two semesters during his freshman year.
"In the fall, my motto became 'WWHD?' or 'What Would Harold Do?'," Johns said. "I even put a picture of Harold with the saying above my desk. I studied really hard, and was able to raise my semester GPA."
Local
The latest news from around North Texas.
Johns tracked the May 15, 2013 tornado outbreak and helped warn people via Twitter. He is the Vice President of the Texas A&M Student Chapter of the American Meteorological Society.
"For me, it's not about the money, the fame, or even the achievements, it's about keeping people safe," Johns wrote in his essay.
The Lone Star Emmy Educational Foundation administrates the scholarship. NBC 5 made the Harold Taft Scholarship possible thanks to a generous donation several years ago. NBC 5 Chief Meteorologist David Finfrock is the scholarship chairman.
Johns will be recognized at the Lone Star Emmy Gala in San Antonio on Saturday, November 9, 2013.
The inaugural winner was another Texas A&M graduate Jose Torres. He is now a meteorologist at KOB-TV, the NBC affiliate in Albuquerque, New Mexico.