Two people are now facing charges after leading Forest Hill police officers on a chase through four different cities Monday night.
Forest Hill officers stopped a driver along Southeast Loop 820 around 11 p.m. Monday night for suspected DWI. During the traffic stop, the driver took off, starting the chase.
Officers followed the driver into Arlington, where the driver slowed and two passengers jumped out of the truck and ran away. Arlington police later arrested 41-year-old Eliazar Acosta. He is charged with Failure to Identify a Fugitive and also had previous parole violations. The other person was not located by officers.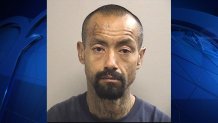 The driver of the truck continued along I-20 through Grand Prairie and into Mansfield.
Officers with the Mansfield Police Department were able to deploy stop sticks, disabling the truck. 17-year-old Alejandro Zarate was arrested and charged with Driving While Intoxicated and Evading Arrest/Detention in a Vehicle.