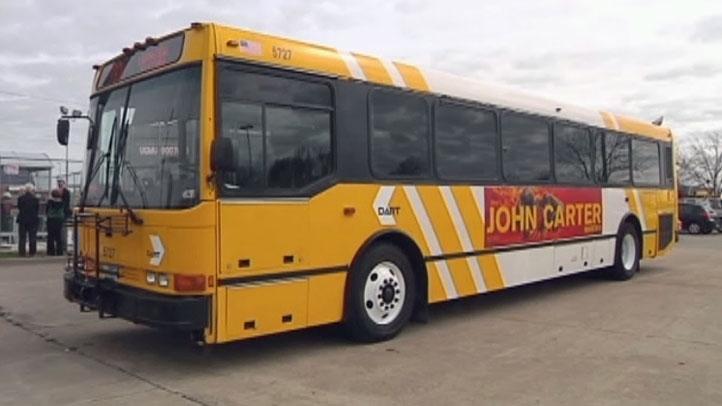 For the first time in the history of the Dallas Area Rapid Transit system, a North Texas city is getting service without being a member of the agency.
DART will provide service from Hanby Stadium near Mesquite High School to the Lawnview Station in Dallas starting Monday.
The shuttle is a yearlong test to see if Mesquite residents will get on board a light rail project.
Local
The latest news from around North Texas.
Residents and city officials got a first look at the first DART bus in Mesquite on Tuesday morning.
"In some ways, it seems this day would never get here," Mayor John Monaco said.
Mesquite is not a DART member because the city voted not to join the transit agency back in 1983. Now, the city is paying DART about $300,000 for the shuttle service from Hanby Stadium.
"It's showing them there's another way, there's another business model for getting it done," Monaco said.
City leaders said they would have had to raise property taxes up to 50 percent to afford to join DART as a member.
Member cities contribute 1 percent of their sales tax revenue to DART.
"This is an economical way to first get the connection between the city of Mesquite and the DART system," Assistant City Manager Jerry Dittman said. "It's affordable, we were able to work within the existing budget, and it's kind of a win win for us."
The shuttle is a study that the city hopes will justify light rail in Mesquite. DART is also looking at using the "Mesquite model" in other cities.
"There are cities all over North Texas, all around our region, saying, 'How do we connect? How do we connect to this system?'" said Gary Thomas, DART president.
Mesquite resident Darrell Crawford said he wished there was a way residents could have voted on the shuttle service.
"I think it's going to be good for the older people, but I don't like the way it was brought in," he said.
It will cost $7 for a day pass to ride the DART COMPASS Shuttle, which will make seven round trips in the morning and seven round trips in the evening.
The city is offering a free weekly pass for the first 150 riders who sign up. Residents can request a pass by emailing the city at freepass@cityofmesquite.com.