The American Airlines Center was packed with as many as 20,000 people Thursday night as President Donald J. Trump hosted a campaign rally.
Trump hit the stage about 7:45 p.m., which was a little later than expected. But the crowd inside was still energized to see him.
The president touched on topics like low unemployment, building a wall, and winning the election in 2020.
"Since my election we've created 775,000 across your state including 70,000 Texas manufacturing jobs. They said those jobs had disappeared didn't they," Trump said.
"Our country is once again living by two simple rules. Buy American and hire American," he added.
Hundreds of President Trump's supporters have started lining up outside the AAC this morning, ahead of his rally there Thursday night.

The line is already on both sides of Houston, stretching several blocks.#Dallas #NBCDFWNow #Decision2020 https://t.co/xHUlKwXJS0 pic.twitter.com/aIGepJeHj8

— Tim Ciesco (@TimCiescoNBC5) October 17, 2019
The large crowd was not very ethnically diverse. However there were some minorities in support of Trump. That included Latinos for Trump, African Americans and Asians.
For those attending Thursday night, they were pleased with what they heard.
"I thought the rally was great," supporter Lee Aldriedge said. "Very patriotic. Just the audience and their reaction to what Trump said."
---
Air Force One touched down at Naval Air Station Fort Worth Joint Reserve Base at about 12:52 p.m. Thursday.
Local
The latest news from around North Texas.
After speaking with the media and greeting the crowd, Trump departed the base at about 1:40 p.m. From there, the president was scheduled to make several stops, including a luncheon in Fort Worth and a tour of the new Louis Vuitton factory in Johnson County, before ending the day at the rally at the AAC.
Trump Rally: Dallas
Doors at the American Airlines Center open at 4 p.m. ahead of the 7 p.m. rally. Several street closures will be in effect during the event and traffic in the area is expected to be very congested as the president travels from Love Field to the arena during rush hour.
See the map below for details.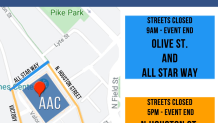 Nearby, at the Theatre in Grand Prairie, Democratic challenger Beto O'Rourke was holding a "Rally Against Fear." O'Rourke's rally is scheduled to begin at about 6 p.m. and can be watched here.
Meanwhile, Texas Democrats, led by Dallas County Judge Clay Jenkins, will hold a rally at 2 p.m. near the Lexus garage outside the AAC. State Reps Ramon Romero, Rhetta Bowers, Jessica Gonzalez and others plan to "discuss how Donald Trump has failed Texas."
After the fundraising luncheon in Fort Worth, Trump will head to the Johnson County town of Keene where people have been rolling out the red, white and blue carpet and lining the streets with American flags.
In Dallas, a line started to form outside the AAC about two days before his arrival. On Wednesday, tents and pop-up chairs along with T-shirt stands wrapped around the arena.
Dave Thompson and a friend were first in line.
"You know, you have people from all walks of life from around the country. I feel positive energy. I don't think it's against anyone or anything but for positive breakthrough," Thompson said.