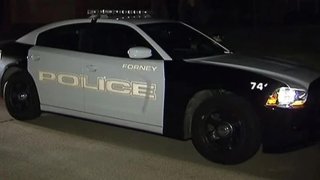 A handcuffed man being detained by Forney police drove off in the officer's police car and was later taken back into custody while sitting inside an Applebee's restaurant, police say.
Forney police said an officer spotted a vehicle in a ditch along the 700 block of U.S. Highway 80 at about 1 a.m. Saturday.
Police said the officer stopped to check on the driver and discovered several items of drug paraphernalia. The driver was taken into custody, though police said he began resisting and assaulting officers while being put in the back seat of the officer's patrol vehicle.
During the search of the driver's vehicle, police said officers found multiple weapons and narcotics.
While the officer searched his car, the handcuffed man in custody was busy slipping through a small partition between the front and back seats of the patrol car. The man, police said, managed to get into the driver's seat and drive off in the officer's car, traveling west in the eastbound lanes of US Highway 80 toward Mesquite.
A short time later, Mesquite Police were told a person wearing handcuffs was sitting inside an Applebee's restaurant. Mesquite police officers arrived and placed the man back into custody and took him to the Forney City Jail.
Outside of the restaurant police found the patrol vehicle with damage apparently caused when the vehicle struck guardrails. The man who took the vehicle was also treated for a minor head injury believed to have been sustained when the patrol vehicle was crashed.
Local
The latest news from around North Texas.
Forney Police identified the driver as 26-year-old Emanuel Paramo, of Bridgeport. Paramo faces a number of charges including assaulting an officer on duty and unlawful possession of a firearm by a felon.
Anyone with additional information about this, or any other incident, is asked to contact the Forney Police Department Criminal Investigations Division at 972-564-7607.
Information can also be left anonymously at Kaufman County Crime Stoppers at 877-847-7522 or at http://kaufmancountycrimestoppers.org/ and if that information leads to an arrest, a reward could be granted to the caller.