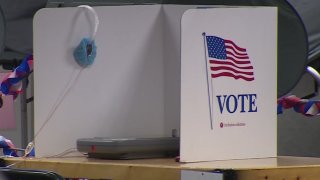 Runoffs from the May 9 election in North Texas were finalized on Saturday.
Below are 11 races we followed in Dallas, Tarrant, Collin and Denton counties, listed alphabetically.
Not all counties and cities had elections on Saturday -- only those whose races on May 9 didn't end with more than 50% for any particular candidate.
JUNE 18 RACE RESULTS
COUNTY ELECTION PAGES
For sample ballots, voting information and race results at counties throughout North Texas, visit the following county election pages here: Anderson, Bosque, Comanche, Collin, Cooke, Dallas, Delta, Denton, Ellis, Erath, Fannin, Freestone, Hamilton, Henderson, Hill, Hood, Hopkins, Hunt, Jack, Johnson, Kaufman, Lamar, Navarro, Palo Pinto, Parker, Rains, Red River, Rockwall, Somervell, Tarrant, Van Zandt, Wise.
PREVIOUS ELECTION RETURNS