A Denton police officer shot during a traffic stop Tuesday morning remains in critical condition although his recovery is favorable after undergoing surgery, police said.
Urbano Rodriguez Jr., a five-year veteran of the Denton Police Department, was shot twice, once in the head and once in the leg, during a traffic stop a few minutes after midnight on West University Drive.
The shooting happened after Rodriguez confronted the suspects about smelling marijuana in their car, according to court documents obtained by The Dallas Morning News.
Denton PD is working a scene at the intersection of University Dr. and Georgetown Dr. Please use caution if in the area. Avoid if possible. pic.twitter.com/wRFGBvI7ww

— Denton Police Dept (@DENTONPD) October 29, 2019
Antwon Pinkston and Michele Stacey were booked into the Denton County Jail in connection with the shooting. They were both shot in the arm when a back-up officer returned fire, said police chief Frank Dixon.
Pinkston is charged with attempted capital murder and is held on a $5 million bond.
Stacey is jailed only on a probation violation but more charges are possible, police said.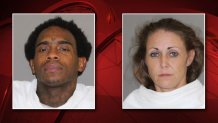 Both suspects were briefly treated for superficial wounds and transferred to the Denton County Jail.
Please keep our family in your prayers. Media, please see Assistant Chief Smith at our 3:45am presser. I am returning home immediately. I want to thank @CarrolltonTXPD and @FBTXPD for their assistance with getting the suspects detained and our partner agencies for their help. https://t.co/0wPOpdQKMu

— Frank Dixon (@Chief_Dixon2746) October 29, 2019
Dixon said after Rodriguez underwent surgery Tuesday that his recovery chances were "favorable."
"We know him as being a very tough officer but compassionate," Dixon said. "He's a fighter but he truly cares about our community."
The shooting happened when the officer pulled over a vehicle for an "equipment violation," police said.
Local
The latest news from around North Texas.
Carrollton police later spotted what was believed to be the gunman's car and attempted to make a traffic stop along Sandy Lake Road but the driver led officers on a slow-speed chase before pulling over near the intersection of Valley View Lane and Luna Road, police said.
The Texas Rangers are leading the investigation at the request of Denton Police.
Stacey, the driver, told an investigator she feared for her life and did what Pinkston told her, according to the arrest warrant.
When an investigator questioned Pinkston, he mumbled, complained of being cold and acted like he was trying to sleep, police said.
The Denton Police Department says the 100 Club of Denton will coordinate all donations for Officer Rodriguez and his family. Click here for the club's website.