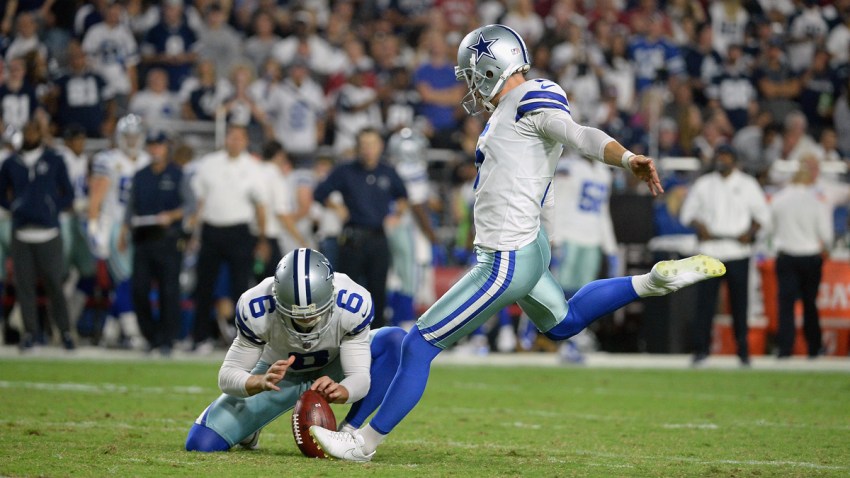 This kicker issue is a real problem for the Dallas Cowboys.
Under normal circumstances it wouldn't be that big of a deal for an NFL kicker to miss a few games with a groin strain, but Dan Bailey is the most accurate kickers in NFL history.
Did you read that? History.
Local
The latest news from around North Texas.
We're talking NFL history — not franchise history. Bailey has made 178-of-198 (89.8%) of his field goals.
No one has been more accurate.
Not Adam Vinatieri. Not Hall of Famers Morten Anderson or Jan Stenerud. He is the standard.
Bailey had made each of his 23 kicks - seven field goals and 16 extra points - until he informed the coaching staff in the first quarter of Sunday's 40-10 win over San Francisco that he couldn;t kick through a strained groin.
Bailey told the coaching staff he felt a twinge during pre-game warmups and it became progressively worse, when he kicked off twice and made two extra points in the first quarter.
Safety Jeff Heath made two of three extra points and handled kickoffs during the final three quarters.
Now, though, the Cowboys must add a real kicker.
They will try out Jason Myers, released by Jacksonville last week, long-time veteran Mike Nugent and rookie Sam Irwin-Hill, who spent training camp with the Cowboys.
"We're hopeful we can sign a guy tomorrow to replace Dan who can come in and we can have the same kind of confidence in him," Cowboys coach Jason Garrett said Monday. "Now, we don't have the experience with this guy, whoever he is, but hopefully he's a guy who's shown he's capable of knocking the ball through the pipes in an NFL game and in a pressurized situation.
"You try to be as objective as you can in your decision-making as you go, but there is no question we have a long history with Dan, a history of success. There's no question it will be a little bit different in some way."
Myers should be the favorite because he has recently kicked in NFL games, and the three-year veteran has a history of making the kicks you're supposed to make.
Translation: Myers has made 34 of 39 field goal attempts (87.1 percent) between 30 and 50 yards.

Myers was 11 of 15 this season, and missed two kicks from beyond 50 yards in a loss to the Los Angeles Rams. He had been Jacksonville's kicker since 2015.
Irwin-Hill is a rookie, who made two of three field-goal attempts and each of his seven extra points in the preseason.
Nugent is a 12-year veteran, but the former second-round draft choice never met the high expectations for his career. He's made 145 of 184 field goals (78.8 pct) between 30 and 50 yards.
Nugent, who was beaten out by Aldick Rosas for the New York Giants' job in training camp, spent seven seasons with Cincinnati. He's made 236 of 292 field goals (80.8 percent).
"You want a guy who is reliable," Garrett said. "It's really important at that position you have a guy you can trust and count on. You want that throughout your whole team at every position. But that's a very valuable position. You're going to put the fortunes of your team in that guy's hands, or on his foot, and you want a guy you can trust and rely on.
"Experience matters, but you don't want to make it all about that. You want to choose the best guy. But reliability and how much you can trust them is certainly a big factor."
The Cowboys will carry two kickers until Bailey is ready to play, which means they'll have to make a roster move Tuesday, so the kicker is eligible to practice Wednesday.
The Cowboys have made the execution of the field goal an art form over the past few years. Long snapper L.P. Ladouceur has been with the club since 2005, punter Chris Jones, who holds, arrived in 2011 as did Bailey.
Bailey has missed just 20 field goal attempts in his entire career. The best thing he does is make the kicks you expect him to make.
He hasn't missed a field goal under 30 yards since his rookie year. He has made 58 of 60 attempts from 30-39 yards and 51of 57 from 40-49 yards.
Bailey's so good that his teammates, and the coaching staff are truly surprised when he misses a kick.
He's made numerous game-winners, and pressure doesn't bother Bailey, which means he allows Garrett to coach a certain way.
He can play for a field goal at the end of a close game, knowing Bailey will win it. He can be aggressive at the end of the half, knowing Bailey can make a long kick.
And when the Cowboys move inside the 20, Garrett can tell Dak Prescott to play conservatively because the Cowboys are virtually guaranteed three points.
The Cowboys move into a challenging part of their schedule with games against Washington, Kansas City, Atlanta and Philadelphia. With three losses, their playoff future is already in jeopardy.
They must win some difficult games without one of their most trusted players.