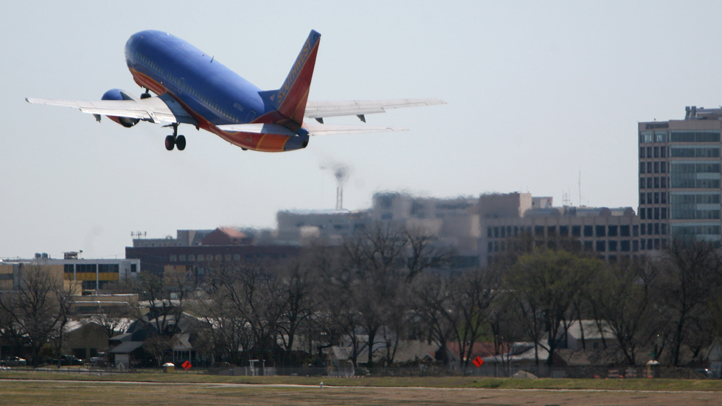 A money-juggling plan at Dallas City Hall could take money from a Love Field project to help fund an Oak Cliff streetcar system.
Years ago, the city and DART chose not to provide direct light rail service to Love Field to save money, promising a future automated connection.
The original plan called for a people mover tunnel under the western Love Field runway to link with the Burbank Dallas Area Rapid Transit rail station along Denton Drive near Southwest Airlines headquarters.
Local
The latest news from around North Texas.
But city planners have concluded that the route would cost $100 million more than a longer, surface-level tram to the Inwood DART station.
"I think you'll find that there's really a very negligible difference in time, so I think this will work out fine," Councilwoman Linda Koop said.
The money saved by building a surface-level tram could instead help support operation of a streetcar system proposed for downtown Dallas and Oak Cliff.
A $23 million federal grant to help build the first leg of the streetcar system requires proof before the end of April of a local commitment to operate the line.
"The federal government has given us a deadline, and we intend to meet it," said Koop, who chairs the Transportation Committee, which heard a briefing on the new plan Monday.
Dallas leaders dream of a streetcar system that would circulate through the entire downtown area and far into the Oak Cliff district served by Councilwoman Delia Jasso.
"Streetcars bring economic development," she said. "District 1 needs economic development."
But the initial segment would include only two stops in between Union Station downtown and Methodist Hospital in Oak Cliff, crossing the Houston Street Viaduct over the Trinity River.
"I think this is a good start," said Jason Roberts, an Oak Cliff transportation advocate. "We have to get a stake in the ground."
He said city officials are asking the right questions to make a better use of scarce resources.
"Let's still create something that will connect people," he said. "But can we use these funds in a better way to start this streetcar project?"
Today, passengers on the Green Line can take a bus to the terminal from DART's Inwood rail station.
Airport workers and airline passengers waiting for the bus at the station Monday said a better connection would improve their trip.
"A lot of the workers that ride the train," worker Tori McQuary said.
"If it gets people from point A to point B faster, then it would definitely save on time," said Guillermo Mercado, of San Diego, Calif.
The longer route now being proposed would enter Love Field from the south, passing undeveloped areas around Cedar Springs road and unused airport property that could become a consolidated car rental center in the future.
Airport worker Gary Pearce said the shorter tunnel sounded like a faster option.
"I can see about saving the money, but for taking longer here?" he said. "We're on a tight schedule to get on the clock, so we need something that's quick."
Southwest Airlines spokeswoman Brandi King said a slightly longer people mover route at Love Field could still be a "viable option," but that it is too early for the company to take a formal position.
The Dallas-based airline is bankrolling a major portion of the new terminal under construction at Love Field to prepare for an expected increase in traffic with the end of Wright Amendment long-haul flight restrictions in 2014.