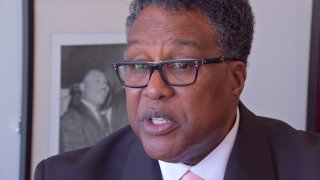 Former Dallas Mayor Pro Tem Dwaine Caraway's prison sentence has been reduced five months for testifying against Dallas real estate developer Ruel Hamilton in June.
Caraway was sentenced to 56 months in prison after he admitted to taking more than $400,000 in bribes and kickbacks from people connected to the Dallas County Schools corruption case.
He was also given trips to New Orleans, Las Vegas, and Austin, and was given security cameras for his home and a loan for his father. Caraway also received a campaign bus, casino chips and money to gamble with, and money to cover funeral expenses for family members, according to the government.
In an order to reduce Caraway's sentence, Judge Barbara Lynn noted the significance of Caraway's testimony in the case against Hamilton but also noted issues with Caraway's credibility during portions of his testimony.
Federal prosecutors had recommended Caraway receive a bigger sentence reduction of 10 months. Caraway's sentence was reduced five months to 51 months on Wednesday.
Hamilton was accused of making corrupt payments to Caraway and the late Carolyn Davis, a former Dallas City Councilwoman who served as chair of the city's housing committee.