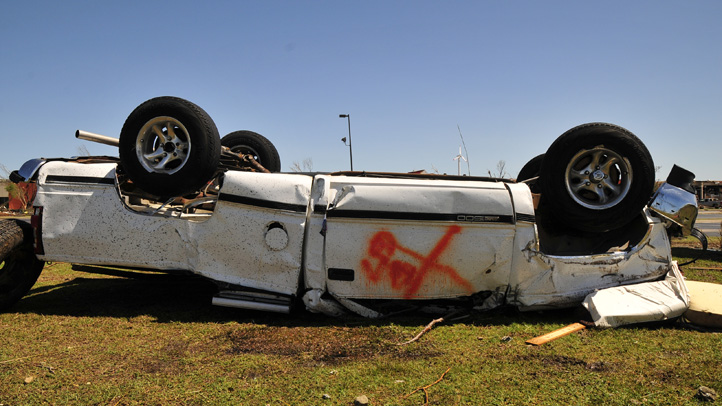 A violent weather system that claimed nine lives in Oklahoma amid tornadoes and flash floods gave way to clearing skies as the storms trekked toward the East Coast on Sunday.
A tornado killed nine people as it charged down Interstate 40 in Oklahoma City's western suburbs on Friday night, twisting billboards and scattering cars and tractor-trailers along a roadway clogged with rush-hour motorists leaving work or fleeing the storm's path. Flash floods in Arkansas killed three early Friday, including a sheriff attempting a water rescue.
"The last two nights, I've been having hell," said Roy Stoddard, a truck driver from Depew, Okla., who was delayed by rising floodwaters at Little Rock, Ark. on Thursday. Then on Friday evening, he had to take shelter in a store's walk-in cooler during Friday evening's rush-hour in Oklahoma City as deadly weather approached.
Local
The latest news from around North Texas.
"I know what a tornado can do," Stoddard added.
Damage from Friday night's severe weather was concentrated a few miles north of Moore, the Oklahoma City suburb pounded by an EF5 tornado on May 20 that killed 24 people. Next up, the system was approaching the densely populated Northeast.
The Storm Prediction Center in Norman predicted a slight chance of severe weather in the Northeast on Sunday, mainly from the Washington, D.C., area to northern Maine. Hail and high winds were the chief threat, though a tornado could not be ruled out, forecasters said.
Friday night's storm formed out on the prairie west of Oklahoma City, giving residents plenty of advance notice. When told to seek shelter, many ventured out and snarled traffic across the metro area -- perhaps remembering the damage from May 20.
"It was chaos. People were going southbound in the northbound lanes. Everybody was running for their lives," said Terri Black, 51, a teacher's assistant in Moore.
After seeing last month's tornado also turn homes into piles of splintered rubble, Black said she decided to try and outrun the tornado when she learned her southwest Oklahoma City home was in harm's way. She quickly regretted it.
When she realized she was a sitting duck in bumper-to-bumper traffic, Black turned around and found herself directly in the path of the most violent part of the storm. "My car was actually lifted off the road and then set back down," Black said. "The trees were leaning literally to the ground. The rain was coming down horizontally in front of my car."
Oklahoma Highway Patrol Trooper Betsy Randolph said roadways quickly became congested with the convergence of rush-hour traffic and fleeing residents.
"They had no place to go, and that's always a bad thing. They were essentially targets just waiting for a tornado to touch down," Randolph said. "I'm not sure why people do that sort of stuff, but it is very dangerous."
Friday night's victims included a mother and a baby sucked out of their car as the EF3 hit near El Reno. A 4-year-old boy died after being swept into the Oklahoma River on the south side of Oklahoma City, said Oklahoma City police Lt. Jay Barnett. The boy and other family members had sought shelter in a drainage ditch.
More than 100 people were injured by swirling debris, most with puncture wounds and lacerations, authorities said.
A total of five tornadoes struck the Oklahoma City metro area, the National Weather Service said.
Oklahoma wasn't the only state hit by violent weather Friday night. In Missouri, areas west of St. Louis received significant damage from an EF3 tornado Friday night that packed estimated winds of 150 mph.
Northeast of St. Louis and across the Mississippi River, the city of Roxana was hit by an EF3 tornado, but National Weather Service meteorologist Jayson Gosselin said it wasn't clear whether the damage in both states came from the same EF3 twister or separate ones.
Associated Press writer Jim Suhr in St. Louis contributed to this report.
Copyright AP - Associated Press