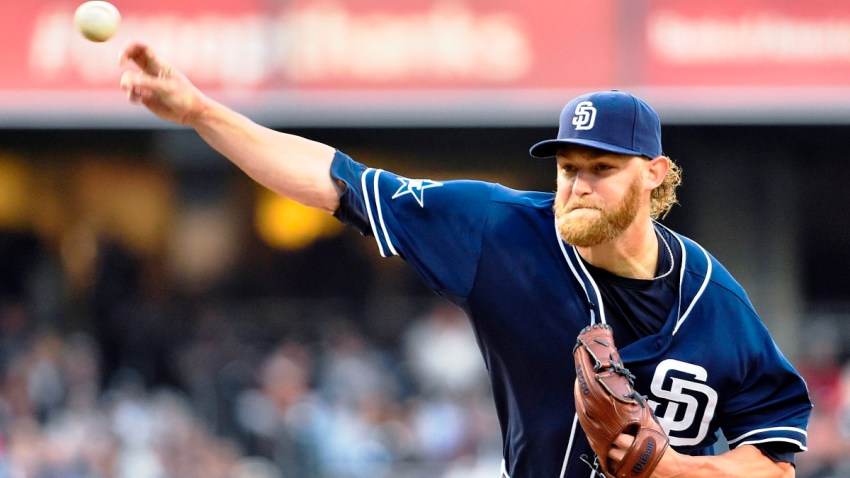 Andrew Cashner pitched four scoreless innings a day after returning from a trip to visit his ailing mother, helping the San Diego Padres to a 2-0 victory over the Texas Rangers on Saturday.
Cashner's mother, Jane, has leukemia and other complications and recently had a leg amputated. Cashner traveled to Houston on Wednesday when he condition worsened and returned in time for his best outing of the spring.
"It's been a tough week traveling back and forth," Cashner said.
Local
The latest news from around North Texas.
The right-hander gave up two hits and no walks while throwing 45 pitches. He allowed a one-out double to Elvis Andrus in the fourth, but stranded him at third.
"It's difficult for him emotionally," manager Bud Black said of Cashner. "But his family wants him to come back and play baseball."
Cashner got help on offense. Newly acquired Wil Myers, playing right field with Cameron Maybin in center, made a running catch on Leonys Martin's drive near the wall to lead off the fourth.
Rotation candidate Anthony Bass threw 3 1-3 scoreless innings for Texas.
Ramiro Pena's RBI groundout off Juan Carlos Oviedo in the eighth ended a streak of 23 consecutive scoreless innings by Rangers' pitching.
STARTING TIME
Rangers: With ace Yu Darvish (elbow) out for the season, the Rangers have a rotation spot open behind Yovani Gallardo, Colby Lewis, Derek Holland and Ross Detwiler.
Bass, considered a longshot, impressed in his second start.
"Nothing has ever been handed to me," he said.
On his third team in as many years, the right-hander struck out three and got his out-pitch, the slider, going.
Padres: Cashner hadn't decided when to return to Houston.
"It's not really a lot of progress being made," he said.
TRAINER'S ROOM
Rangers: OF Delino DeShields (hamstring) was unavailable Saturday. ... X-rays on Detwiler's non-throwing wrist were negative after he was hit by a line drive Friday.
Padres: Black said C Tim Federowicz had "a significant tear" of his right lateral meniscus and is likely out until at least the All-Star break after knee surgery Friday. ... RHP Casey Kelly (groin) will throw batting practice Sunday.
HOLLAND, QUENTIN IN `B' GAME
Holland threw a 12-pitch perfect inning without pain in his spring debut in a morning `B' game against the Padres. He had been held out due to shoulder pain.
Half of the left-hander's pitches were strikes, ending on Carlos Quentin's fly to right.
Quentin played first base, a new position for him. Quentin's future in San Diego is uncertain after its outfield overhaul.
"His hands are pretty good and he's moved around pretty well," Black said. "This is quite a challenge, but he's got a good baseball head."
NOT-SO-FAST FIELDER
Rangers first baseman Prince Fielder beat an infield defensive shift in the first inning when he hit the ball off the end of the bat down the third-base line.
Fielder, listed at 275 pounds, tried for a double, but left fielder Justin Upton easily threw him out.
"Those are aggressive plays," manager Jeff Banister said.
NIEVES READY
With Federowicz sidelined, 37-year-old Wil Nieves has a chance to win San Diego's backup catching job.
Nieves is a non-roster invite after spending last season in Philadelphia.
"I was surprised I couldn't find at least one year guaranteed," Nieves said. "And a lot of teams were looking for catchers."
Nieves started his career in San Diego in 2002 and has played for seven teams. He hit .297 in 71 games with Arizona in 2013.
"You compare yourself with other backups who are hitting .190, .180 and then you see those guys getting two-year deals. It's frustrating, obviously," Nieves said. "But I'm used to this. Every year I have to prove myself.
MARTIN TO LEAD OFF
Banister wants the speedy Martin to be his everyday leadoff hitter.
"We've talked about it," the left-handed hitting outfielder said. "I've got to get on base."
Martin went 0 for 3 and is hitting .238.
UP NEXT
Rangers: RHP Ross Ohlendorf, another rotation candidate, starts Sunday vs. Milwaukee.
Padres: RHP Ian Kennedy starts Sunday against Cleveland.
Copyright AP - Associated Press