A 19-year-old was arrested and another suspect escaped in a police chase that started at a construction supply company in Garland where the suspects allegedly stole 27 bundles of shingles, police said.

Briana Reney Martinez, 19, of Arlington faces charges of theft, criminal trespass and evading arrest. She is being held at the Garland jail.

Police responded about 1:15 a.m. after a security company reported an apparent burglary at a construction supply company in the 2600 block of Market Street. The security officials told police the suspect was inside the fenced area loading items into a silver Kia.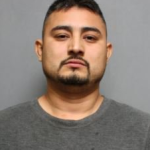 When police arrived, the suspect got into a waiting vehicle with a driver and attempted to flee the scene and a pursuit ensued through Dallas, Irving, Grand Prairie and Arlington.
During the pursuit, officers saw bundles of shingles in the trunk of the Kia and piled in the backseat, police said. The suspects began throwing the bundles of shingles out the window to discard the evidence, police said.

The suspects made it to an apartment complex at Arlington on Walnut Hill Circle where the Kia crashed into another vehicle and the two suspects fled on foot.
Local
The latest news from around North Texas.
Martinez was arrested and police say they could not find the driver of the Kia.

Police from Garland, Grand Prairie and Arlington and a helicopter with the Department of Public Safety helped establish a perimeter and search for the suspects.
Officers recovered 27 bundles of shingles that were stolen from the business, police said.