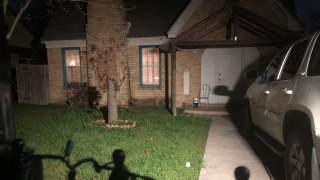 No one will be charged in an accidental shooting that wounded a 5-year-old boy Feb. 14, Dallas police say.
The 5-year-old and his 11-year-old brother were inside the family's home in the 1800 block of Stella Avenue when, according to police, the older boy accidentally shot his younger brother in the back as he played with a handgun.
The injured child was transported to Children's Medical Center in Dallas and is said to be in stable condition.
Police said the 11-year-old got the gun out of his parents' bedroom closet drawer and began playing with it, police said.
The gun accidentally discharged, ricocheted off the ground and grazed the 5-year-old in the back, police said.
Witnesses told police that an adult relative was watching the boys while their mother went to the store.
No arrests have been made and no charges will be filed against the parents or anyone else, police said.
Local
The latest news from around North Texas.
The location where the gun had been hidden did not meet the criteria to file criminal charges, police said.
Police had initially said the older child was 10.