This will be a week of temperature extremes!
Sunday the high only reached 41, Monday will not be much warmer with a high of 45 degrees.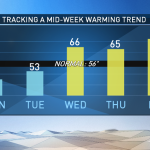 Temperatures will gradually warm this week. The normal high for this time of year is 56. We will exceed that value on Wednesday with a high of 66. Friday will be the warmest day of the week with a high of 73.
A strong cold front will move through North Texas Friday night. Temperatures will turn sharply colder Saturday. The low Saturday morning will be 34 degrees.
Cold air will settle in all weekend. Sunday and Monday morning expect hard freezes. Just to show you how dramatic these changes are I've compared highs and lows.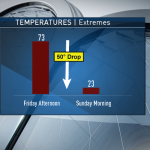 North Texas will experience a 50 degrees temperature drop between Friday afternoon and Sunday morning. That is what some would call, typical Texas Weather!