A Watauga man has been indicted by a federal grand jury, accused of smuggling undocumented immigrants into Texas for financial gain, according to the Department of Justice.
On Sept. 18, deputies with the Frio County Sheriff's Department and agents with the U.S. Border Patrol responded to a 911 call from someone who said they saw several people exiting a tractor-trailer parked at a convenience store in Frio County, southwest of San Antonio.
When authorities arrived, they found 39 undocumented immigrants, including 28 men, seven women and four children, from Guatemala, El Salvador and Mexico, officials said.
"We see hands sticking out of a little rear door on the trailer," said Frio County Sheriff's Sgt. Jerry Reyna.
"Very heartbreaking. The youngest that was in there was a 13-year-old little boy. As soon as he jumped out of the trailer he said, 'Thank you so much. Thank you for saving us,'" said Frio County Sheriff's Deputy Aaron Ramirez.
Watauga Man Accused of Smuggling People Into Texas
They took the accused driver, 33-year-old Drew Christopher Potter, into federal custody. He has been charged with one count of conspiracy to commit alien smuggling for financial gain and three substantive counts of transportation of undocumented immigrants.
"According to the indictment, Potter conspired to transport undocumented aliens for private financial gain," the DOJ said in a statement Thursday.
The officers tell NBC 5 the trailer was a refrigerated unit, but it was not working properly, and temperatures were well above 100 degrees inside.
"There was a little siding in that trailer, where you could tell they were trying to make a hole to get some air," Ramirez said.
DFW Man Accused of Smuggling People Into Texas for Profit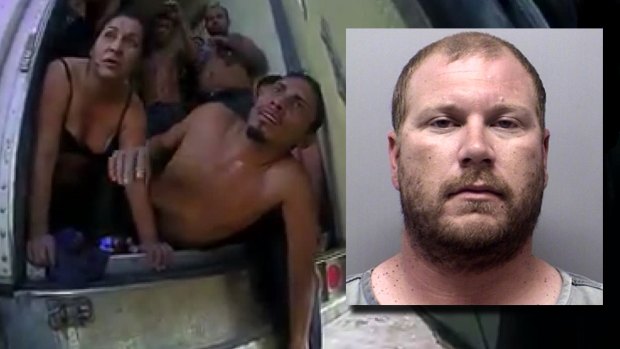 Potter remains in federal custody, officials said. If convicted, he faces up to 10 years in federal prison and a maximum $250,000 fine for each count.
Potter's court date has not yet been set.
At Potter's home in Tarrant County, a woman who identified herself as Potter's wife left without comment Thursday, and neighbors had little to say themselves.
"Something unexpected, to be honest. I never actually expected he would do anything like that," said neighbor Juan Diaz.
Neighbors React to Federal Smuggling Indictment
Immigration attorneys at Catholic Charities of Dallas reach out to all sorts of immigrants, including many driven by desperation.
"I mean, it's just heartbreaking. And when I watch the video I can just see the desperation and the need," said immigration attorney Jenna Carl.
NBC 5's Julie Fine and Kevin Cokely contributed to this report.