Dallas police have confirmed the death of the gunman who fired automatic weapons at officers outside Dallas Police Department headquarters before engaging in a standoff from inside an armored vehicle Saturday morning.
Dallas Police Chief David Brown said they think one gunman — later identified as 35-year-old James Boulware — managed to fire shots at multiple locations, despite witness reports of as many as four shooters.
All Eyes on Dallas in Wake of Shooting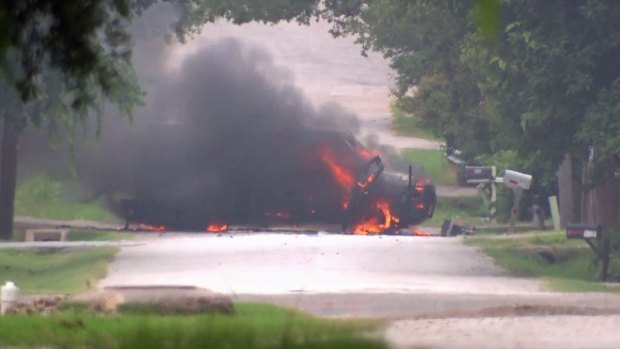 The shootout shattered multiple windows at the headquarters building near the department's information desk. Bullets also pierced the casing surrounding an old helicopter on display in the museum inside.
"I believe we're very blessed officers survived this ordeal," Brown said.
Dallas Police Scanner Audio From HQ Attack
Chase, Standoff in Armored Vehicle
After the shooting, Boulware used an armored vehicle to ram a police vehicle before leading officers on a pursuit south on Interstate 45.
The chase culminated in a standoff at a Jack in the Box parking lot along I-45 near Interstate 20 in Hutchins beginning at about 1 a.m. I-45 was shut down and Dallas SWAT was deployed.
Armored Van at Center of Investigation
Boulware called 911 and left a long rant and Dallas Police Department Chief David Brown said negotiators called that phone number. Talks continuously broke down when he became agitated and ranted angrily
"The suspect has told our negotiators that we took his child and we accused him of being a terrorist and that he's going to blow us up," Dallas Police Department Chief David Brown said.
Police said Boulware told them he had explosives in the van, which appeared to be outfitted with gun ports in the sides.
YouTube Video: Dallas Police HQ Shots Fired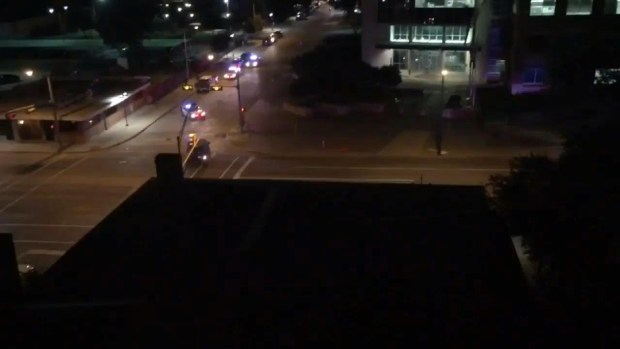 The vehicle's engine continued to run until snipers shot at the engine block, according to police. At 5:07 a.m., snipers shot through the vehicle's windshield, possibly kiling Boulware said police.
There has been no contact with the suspect in over 4 hours - believe it likely that he is deceased #DallasPDShooting

— Dallas Police Depart (@DallasPD) June 13, 2015
Officers would not approach the gunman's vehicle until bomb technicians confirmed it was clear.
"Bomb technicians are deploying robots and plan to detonate specific areas around the van to ensure its not ready to explode," Brown said.
At about 9:30 a.m., police began shooting out the windshield of the vehicle with a .50-caliber gun.
We are about to go with the "water charge" in the susp vehicle. Have been prepping for a safe detonation #DallasPDShooting

— Dallas Police Depart (@DallasPD) June 13, 2015
At 11:50 a.m., Chopper 5 heard two explosions and saw a robot near the vehicle's passenger side. Dallas Police Department spokesman Major Max Geron said authorities then found two additional pipe bombs inside the vehicle.
Chopper 5 Captures Two Explosions During Standoff in Hutchins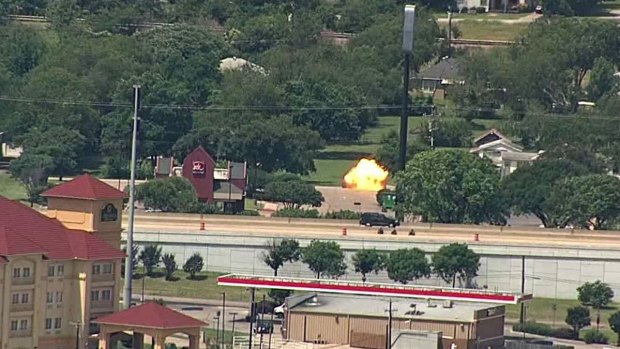 Geron confirmed the gunman's death at about 12:50 p.m. He was identified just after 2 p.m.
While trying to detonate a nearby suspcious device just after 1:30 p.m., the van caught fire, Geron said.
Suspect's van is now on fire. We hear crackling like live rounds are going off #DallasPDShootingpic.twitter.com/C4StcEti76

— Tim Ciesco (@TimCiescoNBC5) June 13, 2015
Explosive Devices at Dallas Police Headquarters
Police said four bags were discovered in front of Dallas police headquarters shortly after 4 a.m. As a robot picked up the first bag at 4:30 a.m., it exploded.
#breaking As the Explosive Ordinance Robot attempted to move one of the bags @DallasPD HQ, the bag exploded on its own #DallasPDShooting

— Dallas Police Depart (@DallasPD) June 13, 2015
Police investigated the other three bags and said they found an additional package under a police truck in the parking lot of Dallas Police Headquarters. All seven patrol stations have since been searched and cleared of suspicious packages, Brown said.
No injuries have been reported, according to Dallas police Maj. Max Geron.
Chief Brown on Shootout at DPD Headquarters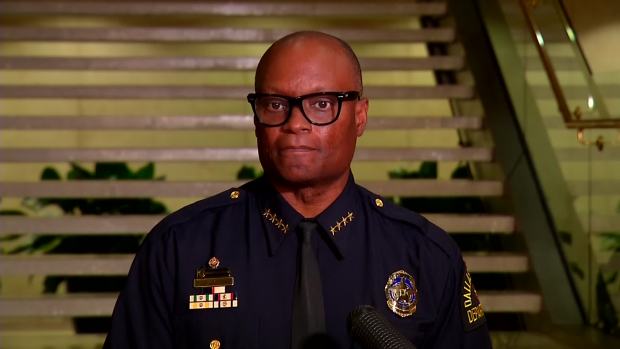 Forensic units effectively shut down areas surrounding both scenes to collect evidence Saturday afternoon. As a precaution, police evacuated people who live at the Southside on Lamar apartment complex near the headquarters on South Lamar.

Dallas police coordinated with the Mesquite Police Department's bomb squad at Boulware's last known address, according to Brown. ATF agents arrested a man at the Mesquite home at about 11 a.m.
Raw Video: Dallas Police in Standoff in Hutchins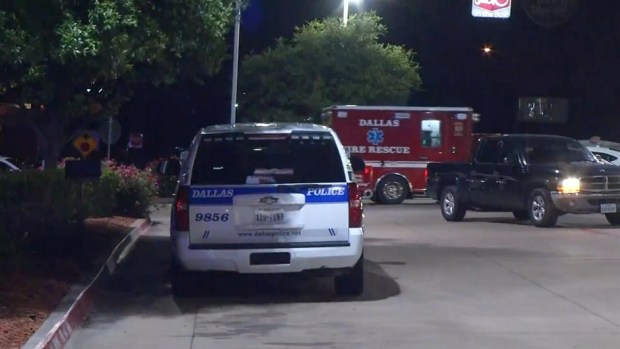 NBC 5's Elvira Sakmari, Todd L. Davis and Jamie Weiss contributed to this report.
CLICK HERE for more information from our media partners at The Dallas Morning News.