A man killed in what police are calling a road rage shooting in Richardson Thursday morning has been identified as 27-year-old Robert Klikus.
The shooting took place on the southbound U.S. 75 Frontage Road between Campbell and Belt Line roads at about 6:30 a.m.
Police said Thursday afternoon they were still searching for the shooter, who drove off headed east on Arapaho Road in a white vehicle after the shooting.
Thursday afternoon Richardson police released surveillance video showing a white, four-door 2012 Toyota Camry sedan leaving the scene.
Witnesses told police they heard two drivers arguing at the intersection of the service road and West Arapaho Road before before hearing a single gunshot.
Hitalo Villa was driving to work when he saw the victim's car driving very slowly along the service road.
"I was thinking the guy was sleeping and I stopped and I try to help and try to wake him up," Villa said. "When [the car] was getting close to the freeway I knew I had to do something."
Villa did not witness the shooting or what led up to it.
Man ID'd in Deadly Road Rage Shooting in Richardson
Villa got out of his wife's car, ran to the passenger side of Klikus's car and punched the window until it shattered.
"I just go around [to the driver's side] and the window was open, and I pull my hand do this to the wheel," he said, turning his hand.
Villa forced the victim's car to crash into a light pole where it came to a rest.
"If I get a chance to help somebody [I do] because you never know when you're going to need somebody to help you," he said.
Richardson police do not know what led up to the road rage incident or if the two men involved in the shooting knew each other.
Frontage Road remained closed for several hours while police investigated at the scene. Richardson police asked anyone with information about the shooting to call them at 972-744-4800.
Raw: 1 Person Killed in Richardson Road Rage Shooting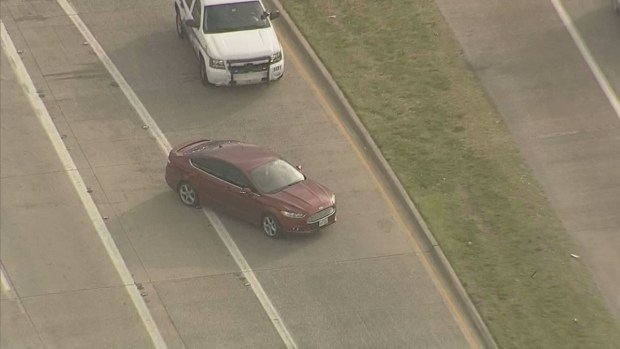 Check back and refresh this page for the latest update. As this story is developing, elements may change.