Dog lovers get your tissues out, this story of puppy love will tug at your heartstrings.
Corporal Ray Hinojosa with the Euless Police Department lost his brother in blue, when Officer David Hofer when he was killed during a shootout in March.
Hinojosa, who has been with Euless for 28 years, worked with Hofer for the last two years.
Euless Officer Gets Dog Named Hofer
Hinojosa was on the scene when Hofer was shot and killed. "It's truly tough on these officers to see a buddy die in front of their eyes," Hinojosa's wife Carol told us in an email.
Recently a litter of dogs was born in Virginia and each puppy was named after a fallen officer. Hinojosa applied to adopt a dog named "Hofer" for his fallen colleague.
Unfortunately, potential adopters were required to appear in Virginia in person to be approved for adoption. Hinojosa was heartbroken but moved on.
Fast forward a few weeks and Kamilia Murphy found some golden retriever puppies abandoned by the side of the highway with just a bowl of food.
Murphy and Hinojosa's daughter, Lauren, "schemed" and worked out a plan to get that puppy to Cpl. Hinojosa.
Cpl. Hinojosa Meets Hofer the Puppy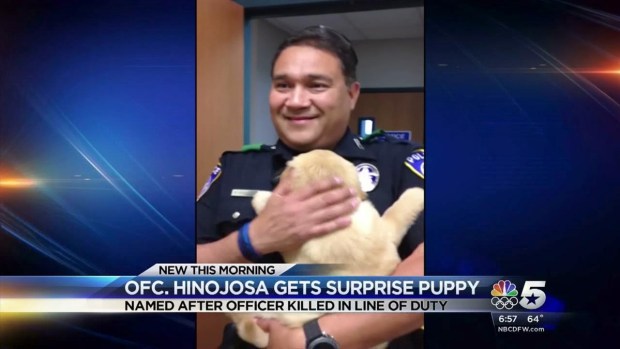 The pair took the golden retriever puppy to the vet for shots and worming, they even bought him a blue collar (back the blue) and a name tag that says "Hofer."
And at 5 p.m. on Thursday, the pair surprised Hinojosa at work, handing over the golden bundle of joy named Hofer.
Procession, Memorial for Euless Ofc. David Hofer
"These officers have had such a tragic time dealing with the death of their friend, this little bit of happiness and tribute will bring some joy," said Carol Hinojosa. "It's been very tough on the whole department and especially those who were on the scene."
#ForHofer indeed.