Jurors have found Enrique Arochi guilty of kidnapping Christina Morris after more than 17 hours of deliberations.
Arochi had no reaction in the Collin County courtroom as the judge read the verdict Wednesday evening.
"We can breathe. I feel like the right thing happened. It's not over. It's far from over. Christina is still missing. I hope that this will possibly get us the information we need to bring her home," stepmother Anna Morris said.
Enrique Arochi Kidnapping Trial Verdict (Raw Video)
Christina Morris, 24, was last seen on surveillance video walking with Arochi, 26, into a parking garage at the Shops at Legacy in Plano early in the morning of Aug. 30, 2014.
Her DNA was found in the trunk of Arochi's car.
"I feel relief that he's not going to be able to do this again hopefully," Anna Morris said.
Jurors deliberated for about seven hours Tuesday before one juror fell ill and was excused by the judge. An alternate juror joined the deliberations Wednesday morning, and the deliberations continued for about 10 hours before the jury informed the judge that they had reached a verdict.
The judge instructed everyone in the courtroom to refrain from showing any reaction to the verdict and a gag order remains in place.
Morris' mother, Jonni McElroy, said she is forbidden from speaking with the media until after the punishment phase but she pumped her fist as she left the courthouse Wednesday evening.
Arochi faces anywhere from probation to 99 years in prison.
The punishment phase begins Monday and should last about two days.
During that time, new evidence and testimony can be presented.
Can't talk to media until after punishment phase, but Christina Morris' mom let her feelings be known. #arochitrialpic.twitter.com/0H1r1lTMv9

— Meredith Yeomans (@YeomansNBC5) September 22, 2016
The jury will begin hearing testimony on sentencing Monday at 8:30 a.m.
Prosecutors had called expert witnesses who testified Morris' DNA was found inside his car.
Arochi's lawyers had argued that after he walked into the parking garage with Morris the two separated and he never saw her again.
Jury Deliberations Resume Wednesday in Arochi Trial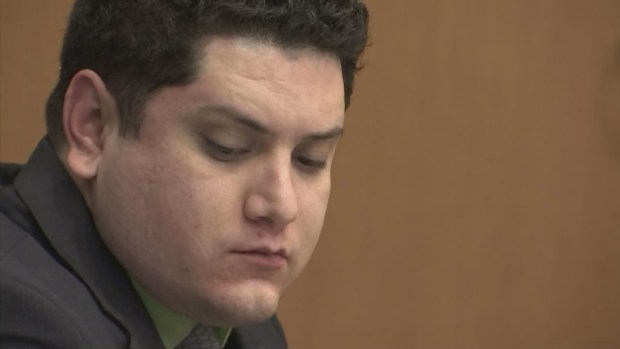 Closing Arguments
Tuesday's proceedings began with the defense calling a cell phone expert to testify about Morris' cell phone records. Robert Aguero testified that the cell phone data is not a reliable indicator of the location of the phone.
The defense rested at about 11 a.m., but prosecutors recalled Plano Det. Aaron Benzick to refute Aguero's testimony.
Both sides then presented their closing arguments.
Asking the jury to set their emotions aside, the defense tried to dismantle the prosecution's case, arguing they had changed their theory of where the kidnapping happened.
They also argued over evidence of Morris' DNA found in the trunk of Arochi's car, claiming crime scene analysts could have accidentally transferred it from Morris' car to Arochi's when they processed both in the same day.
But multiple experts testified there was too much DNA for it to have happened like that. And prosecutors say nothing changes the evidence they presented.
The jury was handed the case at 2:10 p.m. and deliberated until just after 9 p.m. Jurors sent the judge two notes, asking about injuries to Arochi, a timeline of events and testimony of cell phone records.
Day 9
Arochi's attorneys cross examined Plano Det. Cathy Stamm Monday, who testified Friday about interviews with Arochi. Stamm said she believed Morris borrowed Arochi's cell phone to text her boyfriend, Hunter Foster, the night she went missing.
Det. Robyn Busby testified about DNA evidence found on a small area at edge of Arochi's trunk. The defense argued that evidence was possibly contaminated because of how it was stored.
Defense attorneys asked the judge to declare a directed verdict of not guilty because the state did not prove its case beyond a reasonable doubt, but that request was denied.
The defense then called its first witness, a forensic dentist who studied pictures of bruises and wounds to Arochi's hand and arm and said they are not consistent with bite marks.
Day 8
Despite the defense's objections, the judge allowed the jury to see Arochi's Camaro in person Friday morning. Prosecutors wanted to show the jury damage to the front fender and the size of the trunk, in which Morris could have fit.
The jury also heard testimony from a botanist talking about some long grasses that were found caught underneath Arochi's car when police seized it. The botanist said that one of the grasses is generally only found in wet, low-lying areas, usually near water, but the jury didn't hear that testimony because the defense argued it could be misleading without other evidence to back that up.
Prosecutors played recordings of the interviews where Arochi says he did not walk Morris into the parking garage and later changed his story when surveillance photos showed them walking into the garage together. In later recordings, Arochi broke down crying as police continued to push him for answers about the injuries to his hands and arms and said they didn't believe that he punched his car.
Day 7
Investigators testified Thursday morning about possible blood evidence obtained from the trunk of Arochi's Camaro. The defense questioned the validity of the samples taken.
DNA expert Christina Capt, of the UNT Center for Human Identification, said she took DNA samples from Morris' parents and from a soda can in Morris' car and matched them to DNA found on a mat Arochi's car. Capt testified that the likelihood the DNA from the trunk mat is not Morris is 1 in 1.7 quintillion.
Capt also testified about hairs she tested that were pulled from a vacuum at Arochi's place of work. She said the hairs were not a match for Morris.
Day 6
Rand Aridi testified Wednesday that she was dating Arochi at the time of Morris' disappearance. According to text message records, Arochi told Aridi he had a headache the night Morris disappeared and was going to sleep. Arochi was actually with a group of friends, including Morris.
Aridi also said she and Arochi went to the Shops at Legacy for dinner the next day and he never told her he'd been there the night before. She said he had cuts on his knuckles and told her a tire fell on his hand while he was fixing it. Witnesses testified Tuesday that Arochi claimed the cuts came from a fight.
Prosecutors showed evidence a Plano police officer pulled from Arochi's trash that included black gorilla tape and empty bottles of cleaning products. The officer also found a Post-It note in the trash with the following bullet points written on it:
Black shirt
texts from 29-today's date
bank bills
cellular bills
Defense attorneys pointed out Arochi could have been making a list of evidence to gather to defend himself and show his innocence.
Day 5
Defense attorneys questioned Benzick Tuesday, who laid out his theory that Morris was not kidnapped in the parking garage, but rather after she willingly got into Arochi's Camaro. He testified something happened after they left that made Morris change her mind about being in Arochi's car and he believes that's when things went wrong.
Prosecutors also heard testimony from Foster, who discussed text messages between the two the night she went missing. Foster struck an immunity agreement for his testimony in exchange for a suspended sentence on a drug charge. He said he was never near Morris the night she disappeared.
Day 4
Arochi's former co-workers at Sprint testified Tuesday, describing Arochi's strange behavior the day after Morris disappeared.
"He had a bite mark on his arm," one former co-worker, Jacob Talamontes, told NBC 5. "He told me his rim fell on him while he was changing a tire. He told two other co-workers that he got into a fight at the Shops at Legacy."
Day 3
On Monday, attorneys looked at the cell phone records of Arochi and Foster.
Days 1 and 2
Friends who were with Morris and Arochi the night Morris went missing testified last week that they didn't recall seeing cuts on Arochi's hands or damage to his car, both of which appeared the next day.
NBC 5's Chris Jose, Alice Barr and Tyler Sieswerda contributed to this report.