Dallas police are searching for the person who opened fire on a vehicle and struck a 9-year-old Sunday night, police said.
Diamond Dixon said Monday afternoon at Children's Medical Center in Dallas, where her daughter is being treated, that she hoped police would catch the man she said shot at her car.
Dixon said her daughter, 9-year-old Rubye Rhodes, was in stable condition and has undergone two surgeries.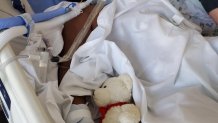 Doctors told Dixon the girl is lucky to be alive.
Dixon said she, Rhodes and a friend were headed home to Oklahoma City Sunday night at about 9:30 p.m. when they encountered an erratic driver on Interstate 35.
She said the driver of a white car nearly hit other cars on the road and swerved in front of the far-left lane where she was traveling.
Local
The latest news from around North Texas.
Dixon said she told police she honked at the driver as she passed him, but he got in front of her and slammed on his brakes.
A moment later Dixon said the man drove up next to her with his window down and opened fire.
"I was going to attempt to speed up to get his tag number to report it, but then no more than my thought went to get his tag number my child started screaming," Dixon said. "'I got shot! I got hit! I'm shot momma!' We were like, 'What?' 'My stomach! My stomach! I got shot! I'm hurt!'"
Dixon said she heard three shots hitting her doors and tire.
Rhodes was sitting behind Dixon.
The bullet injured the fourth grader's left kidney and intestines.
Rhodes is now breathing on her own, but is expected to be hospitalized for several more days.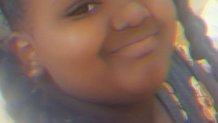 NBC 5 asked Dixon what she would say the man who shot at her and drove off.
"I would say that that was a very coward move," she said. "Shooting at a vehicle, that is just so uncalled for because you don't know who, like I said I have three other kids. That could've been my toddler that was in the car at the time. You never know who is in the car. You should just turn yourself in because my baby's life will never be the same."
In hindsight, Dixon acknowledged the situation was a terrible learning experience and said she wished she had just reported the driver to police instead of going around him.
The best description of the driver Dixon can remember is that he was driving a white, newer model car with tinted windows like an Infinity coupe.
The man is white, with short salt and pepper hair, a goatee, wearing dark clothing. Police urged anyone with information to contact Dallas police. The case number is 012729-2020.
The family set up a GoFundMe account to help with Rhodes' recovery.
Crime Stoppers will pay up to $5,000 for information that leads to an arrest and indictment in this case. Crime Stoppers' number is 214-373-TIPS.