Save the date, Clear the Shelters will take place on August 19. And in honor of the campaign that began right here in North Texas, we're taking a trip down memory lane and checking in on some of the pets adopted during the 2016 event.
COURAGE NOW KNOWN AS CRUZ
Rosie and her family had the biggest smiles when they adopted Courage from Dallas Animal Services shelter.
"I can't believe it's only been a year ago that we adopted Courage ... It seems we've had him forever," she said.

A year later that pup has a new name, Cruz, and a great life with his new family.
Rosie says they were expecting some challenges bringing him home, but he adapted to his new home very well and turned out to be the perfect dog for them.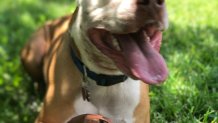 "He's a healthy and happy dog," she said.
Local
The latest news from around North Texas.
Cruz loves his toys, especially basketballs or soccer balls, that he will pop and make his own.
"He has changed our lives completely, he brings so much joy into our lives especially my kids' lives. He enjoys their company and wants to be around them all the time," said Rosie. "It's obvious he chose us to be his family and I'm so glad he did. We love him to pieces!"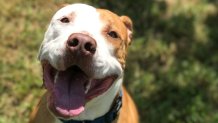 BAILEY IS ALL GROWN UP
Tim picked up a "cute" puppy from Lancaster Animal Control during Clear the Shelters 2016.
He proudly sent photos of Bailey sleeping on the ride to his new home.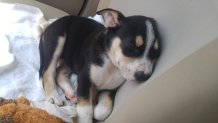 A year later, Bailey is all grown up and still loves to go for car rides, as well as get in the pool, chase the neighbor's cow, keep birds out of the yard and perform some tricks.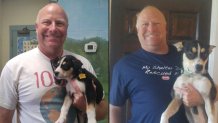 Tim says he's very active. "I have to play ball or fetch with him three times a day."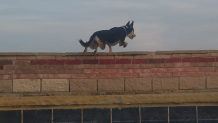 In fact, Bailey played so hard he chewed the tennis ball off the rope Tim used to throw it. He was so crushed he stared at the remnants of his toy in the trash can.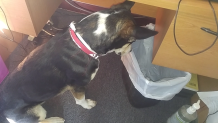 "He has been an amazingly great addition to our small family," Tim said.
TOOTHLESS LOVE ATTENTION

Matt went to the McKinney SPCA on Clear the Shelters day after seeing Lars on the website and ended up taking him home.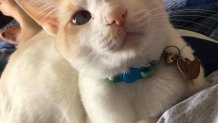 They changed his name to Toothless because of all the dental work he had done.
Now, Matt says Toothless is doing very well, he's not shy anymore and takes any chance he can to get attention.
"He likes to play and sometimes walks around in the middle of the night making a tiny 'meow' as if he is lost," said Matt. "We really love him! He also makes a great playmate for our other cat."
Matt tells us Toothless is also a legal emotional support animal.
BEAGLE LOVE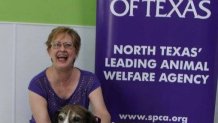 Nancy loves basset hounds and beagles and after losing her basset hound/beagle mix Barney on her birthday in April 2016, she decided to see if the SPCA in McKinney had the right dog for her — after all the adoption Barney from the SPCA went so well.
They didn't have any basset hounds for Nancy, but when she asked about beagle mixes they brought out Bella.
Nancy says she looked into Bella's eyes and spent time in the play area with her and decided to take a chance on her.
Bella's name is now Sophie.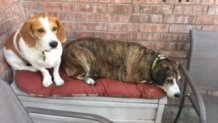 "She is so well-behaved and was housebroken," Nancy said. "She does whatever I tell her and is an awesome dog."
Nancy says Sophie had a bout of separation anxiety that lasted about a month, but now she loves nothing more than laying on the sofa — with Fred.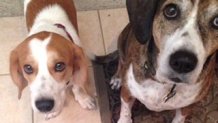 Fred is also a shelter dog, with a name change. Nancy and her husband adopted him in August.

Sophie and Fred met before the adoption and bonded instantly. Fred was also housebroken and well-behaved.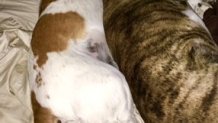 "He is the most chill dog and he taught Sophie to relax," said Nancy.
"I never imagined having two dogs," she said. "But it has all worked out fantastically and we couldn't be happier."
HITTING THE JACKPOT WITH WESLEY

Lourdes says she hit the jackpot when she adopted Wesley. "He is loving, sweet, playful and just an absolute joy. He loves to be carried around and he is a great lap dog."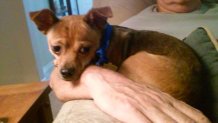 Lourdes says Buttercup was not too thrilled when she brought Wesley home, but everyone has adjusted nicely.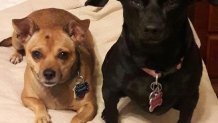 "My husband and I were just talking about how fast the year had gone by since we got Wesley. We can't imagine not having him," said Lourdes. "The Clear the Shelters 2016 program helped us find a wonderful little companion for Buttercup and for us."
At one time Wesley and Buttercup would go for walks separately but now Lourdes says they "freak out" if separated.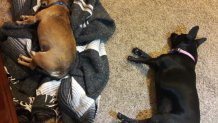 Lourdes points out the petite pair even mirror each other as they sleep near her when she's studying for nursing school.

"Every dog has the potential to be a great pet," said Lourdes. "They just have to find the right mom and dad!"
Looks like Wesley found the right home indeed.

CLEAR THE SHELTERS 2017
The third annual Clear the Shelters event, a nationwide pet adoption initiative, will be held Aug. 19, 2017. Hundreds of shelters in 20 states, Washington, D.C. and Puerto Rico will waive or discount fees as part of the one-day adoption drive.
Dozens of local shelters will take part this year in Clear the Shelters. Refer to the interactive map below to identify a participating shelter near you.
The goal is to #ClearTheShelters by finding forever homes for as many animals as possible.