An off-duty Euless police detective was killed and three others were injured in a crash with a suspected intoxicated driver in Lake Worth on Saturday, police say.
The crash happened at about 1:33 p.m. at the intersection of Boat Club Road and Rocky Point Trail in Lake Worth, Euless police said.
Police said the driver of a Jeep Wrangler, identified as 26-year-old Dylan Molina, ran a red light and struck a Chevy Impala driven by off-duty Euless police Det. Alejandro Cervantes.
Cervantes was pronounced dead at the scene, police said. A woman in the Impala was taken to John Peter Smith Hospital in Fort Worth in critical condition and two children in the car were taken to Cook Children's Medical Center with serious injuries.
Police said Molina was charged with intoxication manslaughter, accident involving death and three counts of intoxication assault. His bond was set Monday at $300,000.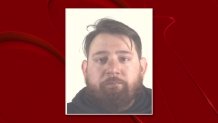 Cervantes served the Euless Police Department for nearly seven years, prior to which he worked eight years for the El Paso Police Department.
Local
The latest news from around North Texas.
"My heart breaks for Det. Cervantes' family, colleagues, and Euless community," Lake Worth police Chief J.T. Manoushagian said. "The Lake Worth Police Department joins you in mourning the tragic loss of a hero. We will investigate this crime to the fullest extent of the law and hold all those who contributed to Detective Cervantes' death accountable for their actions, or lack thereof."