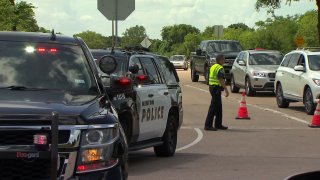 One person was killed and another person was injured in a multi-vehicle crash Sunday morning in Denton that closed U.S. Highway 380 for hours.
Officers were called at about 9:11 a.m. to the three-vehicle crash on the highway, which is also referred to East University Drive, and Trinity Road. Police initially said the crash involved four vehicles.
One person was transported to a local hospital, where they died of their injuries, police said. A second person was hospitalized with injuries not thought to be life-threatening.
The westbound and eastbound lanes of East University were closed for hours at North Mayhill and Rockhill roads.
Police have not said what led to the crash.
There have been concerns about the safety of U.S. 380.
Sunday's crash occurred less than two miles from a head-on collision near at U.S. 380 and Rockhill Road on May 23. Two children and a 31-year-old woman were killed in the two-car crash.
Local
The latest news from around North Texas.
From Jan. 1 to May 24, there was one other fatal incident on U.S. 380 in Denton County that involved a pedestrian. There were also 20 crashes with possible injuries, 14 with minor injuries and three with serious injuries in that same time frame, according to data provided by the police department.
The Texas Department of Transportation, or TxDOT, said in May that a $21 million project is in underway for the stretch of road from Loop 288 to U.S. 377, which will add a raised median with left and right turn lanes on U.S. 380.
The project is expected to be completed in late 2023.
A separate $140 million project is scheduled to begin later this year from the U.S. 377 and U.S. 380 intersection to the Collin County line that will widen the highway from four to six lanes with grade separations at major intersections, according to TxDOT.
There is also a feasibility study in the works that looks at how to improve U.S. 380.