Perry Vs. White Highlights Election Night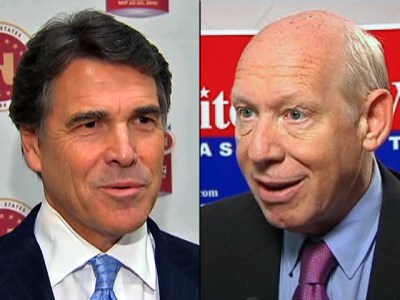 Rick Perry never has lost an election. Neither has Bill White. That distinction ends Tuesday for one of them.
In Dallas County, early voters have given former Houston Mayor Bill White an early lead with 54 percent of the vote (116,794 to 95,735). So far, there are no numbers available for Tarrant County.
---
Election Results available online beginning at 7 p.m. See our results page here for hundreds of races across Texas.
---
Texas voters were deciding whether Perry, a Republican and already the longest-serving governor in the state's history, should be brought back for a third four-year term or be replaced by White, a Democrat and the former mayor of Houston. (Governor's race results here)
Compared with the last midterm election in 2006, far more Texans took advantage of the two-week early voting that ended last Friday.
Continued voter interest, and anger, was evident. The Texas Secretary of State's Office said so many people got on its website looking for polling places Tuesday morning the site briefly became overwhelmed.
Perry first was elected to the Texas House in the mid 1980s, later won statewide office as agriculture commissioner and lieutenant governor and took over as governor when George W. Bush left for the White House in 2000.
"Change is good," White voter Wayne Deeds, 48, of Austin, said. "Tens years is enough of anybody."
But Cynthia Hubbard, a 44-year-old hair stylist from Pantego in Tarrant County, voted for Perry and against Democrats, who she said were moving toward socialism.
"I voted straight Republican because I couldn't vote straight tea party," she said. "I am angry at the federal government. I feel like they are discounting the average American, like we are not significant."
Leo Niekert, 62, of The Woodlands, in suburban Houston, acknowledged it may not have mattered much if he didn't vote in his heavily Republican district, but that his GOP vote reflected his anger.
"It's breathtaking what's going on -- breathtaking bad," said Niekert, who is self employed in the pest control industry. "The wasteful spending is just atrocious."
Katie Kelley, 41, also of The Woodlands, who runs an industrial design business with her husband, described herself as a fiscal conservative and a states' rights proponent who was tired of her views being ignored by government and ridiculed by the media.
"What's wrong with reality?" she asked after voting.
Term-limited White wrapped up three two-year stints as Houston mayor and made brief noises about running for the U.S. Senate before shifting to the governor's race. He distanced himself from national Democrats, including President Barack Obama, yet was seen by Democrats as their best chance to occupy the governor's office since Ann Richards in 1994 got bounced by Bush in a GOP sweep that cemented Republican dominance in Texas.
Pre-election polls showed his yearlong attacks on Perry's record, ethics and workload failed to propel him past the incumbent. Perry railed against Washington, embraced tea party causes and touted Texas' economic gains during his tenure.
Arthur Fisher, a retired business owner in San Antonio, said he usually supports Democrats but this time split his vote evenly between both parties.
"I'm just annoyed that things are going so badly," Fisher, 78, said. "There's too much spending, the economy is not getting better. There's too many empty promises.
"This is an exception for me, but loyal Democrats are voting Republican just to send a message. There are a lot of people disappointed and they are expressing that disappointment."
Lubbock insurance salesman Bill Suter, typically a Republican voter, laughed when asked about his ballot for governor.
"I did a write-in vote for Nolan Ryan. I really did," the divorced 47-year-old father said about the Hall of Fame baseball pitcher and Texas Rangers president. "So it's kind of vote against both candidates."
A couple of the state's congressional districts -- both Democratic -- appeared competitive.
Chet Edwards, of Waco, consistently ranked among the nation's most vulnerable Democrats, was trying to deflect national anti-incumbent sentiment and struggled to keep his job in a race against GOP opponent Bill Flores, an oil and gas industry executive. Edwards' Central Texas 17th District is one of the nation's most conservative represented by a Democrat.
Similarly, incumbent Democrat Ciro Rodriguez was in a tight race with Republican Francisco Canseco in the 23rd District, which stretches from San Antonio to El Paso.
In the Texas Legislature, 16 Senate seats were up. Republicans, who hold a 19-12 advantage, drew no Democratic opposition in half of Tuesday's Senate races.
All 150 Texas House seats were before voters although only about one-third of the incumbents had major party opposition. Democrats needed a net gain of three seats to seize control.
---
Get the latest news direct to your phone with NBC DFW SMS alerts. Text "DFWBreaking" to 622339 (NBCDFW) to subscribe to this free service. (Message and data rates may apply through your mobile carrier).