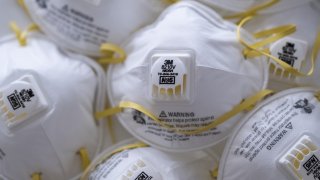 A federal judge in Houston has ordered Texas to provide inmates access to soap, hand sanitizer and masks at one prison following the death of an inmate who'd tested positive for the coronavirus.
U.S. District Judge Keith Ellison issued a preliminary injunction Thursday night calling for the Texas Department of Criminal Justice to provide the items at the Pack Unit, where 62-year-old Leonard Clerkly had been incarcerated.
Clerkly died Saturday at a local hospital after testing positive for the virus. As of Thursday, 327 inmates in Texas prisons had tested positive for the virus.
Texas News
News from around the state of Texas.
Meanwhile, the number of statewide deaths in Texas caused by the new coronavirus has topped 400 and confirmed cases are approaching 17,000, according to statistics compiled Thursday evening at Johns Hopkins University.
For most people, the new coronavirus causes mild or moderate symptoms, such as fever and cough that clear up in two to three weeks. For some, especially older adults and people with existing health problems, it can cause more severe illness, including pneumonia, and death. The vast majority of people recover.
Copyright AP - Associated Press