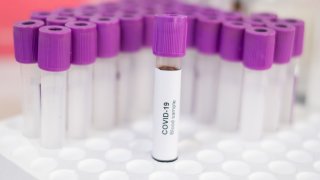 The coronavirus death toll passed 300 in Texas on Tuesday, as the state's juvenile prisons announced they will temporarily stop accepting young people from county and local jails to try to limit the disease's spread.
Texas Juvenile Justice Department Executive Director Camille Cain said in a statement that the measure will remain in place for two weeks.
The Texas Department of State Health Services reported Tuesday that more than 14,600 Texans have tested positive for COVID-19, the disease caused by the novel coronavirus, and 318 people who had it have died. Nearly 2,600 have recovered.
Coronavirus Pandemic
Full coverage of the COVID-19 outbreak and how it impacts you
For most people, the new coronavirus causes mild or moderate symptoms, such as fever and cough that clear up in two to three weeks. For some, especially older adults and people with existing health problems, it can cause more severe illness, including pneumonia and death.
No young person in a state prison has tested positive for the disease, according to Brian Sweany, a spokesman for the juvenile corrections department. He said that last year the youth prisons admitted an average of 28 new people every two weeks.
In the adult prison system, 236 prisoners and 97 staff members or contractors had tested positive for COVID-19 as of Tuesday, according to the Texas Department of Criminal Justice. More than 26,000 people were locked down in 22 prisons that are keeping prisoners their cells in an effort to contain the virus, according to the TDCJ's most recent numbers.
One inmate, a 62-year-old man with a coronavirus-related illness, died Saturday after being taken to a hospital from a Texas prison at the center of a federal lawsuit over health and sanitary conditions in the nation's largest corrections system.
Leonard Clerkly was pronounced dead early Saturday morning, and a preliminary autopsy found he died of viral pneumonia linked to COVID-19, according to a TDCJ statement Tuesday. His death is under investigation.
Clerkly was being held at the Wallace Pack Unit, about 70 miles northwest of Houston. Two male Pack Unit inmates, aged 69 and 73, have alleged in a lawsuit that the conditions there violate their constitutional rights by endangering their health and safety amid the pandemic. They are suing on behalf of a class of older inmates in poor health. A hearing is scheduled for Wednesday.
Clerkly is the second Texas prison inmate to die of a coronavirus-related condition. Both had underlying health conditions, and a corrections officer hospitalized with a heart condition also has died of a coronavirus-related illness. The TDCJ said no one else at the Pack unit has been diagnosed with the disease.
---
Coronavirus Cases in Texas
Locations on the map are approximate county locations and are not intended to identify where any infected people live.
Case data pulled from a variety of sources including county health departments, Texas Department of State Health Services, KXAN-TV in Austin and KPRC-TV in Houston.
---
Copyright AP - Associated Press