As the state continues to reopen, more people are heading back to the physical offices they once knew.
Some started moving back in at the start of June while others are still waiting until July. We're even hearing of some waiting until September to make sure they are absolutely ready to work around others safely.
From sanitizing every week to completely rearranging office spaces, companies are making some big physical changes or starting new routines in an effort to stop the spread of the novel coronavirus.
We caught up with Shaun Butterworth of Stratus Building Solutions of DFW as he geared up on Monday to fight the spread in one of the many workplaces he disinfects. He was in the process of conducting his weekly disinfection sweep at the Livens & Reed Attorneys office in Bedford.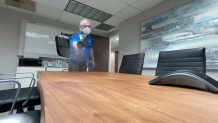 "Our phone has been ringing off the hook for the past two and a half months. It's been a really educational process for many customers, we've enjoyed spreading the news on what's best for disinfecting your offices," he said. "We're no longer going to be looked at strictly as an expense item on a budget. We are now more of an essential service."
His company has been especially busy since offices reopened in June. He said some companies are being proactive ahead of reopening and request just a one-time base clean for peace of mind. Others are signing up for weekly cleaning.
Local
The latest news from around North Texas.
"The other extreme we're seeing is that companies have a positive case and they've cleared the space out and they need to get back to work," he said.
In that instance, he puts on full PPE gear to sanitize a location with a positive case. The work is quick and efficient, using EPA-approved chemicals and cleaners that will kill coronaviruses -- something he said is important to check for when cleaning yourself or finding a company to clean for you.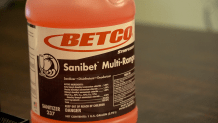 "This has been beneficial for some of the warehouse places and food service places that we've done that need to get the lines back up and operating," he said.
He's able to efficiently disinfect spaces by using a portable device called an electrostatic sprayer, which supercharges water particles with electricity.
"When the gun spits out the disinfectant, it's like a static cling kind of process. Everything gets wrapped around. So unlike a conventional sprayer on normal surfaces, this will actually go around the sides and back so you actually get the entire surface covered," Butterworth said. "It's a much more thorough process when it comes to disinfecting."
He added that safety shouldn't stop with weekly cleanings. Employees need to be diligent on their part, too.
"As long as they're doing their due diligence with clientele and with employees -- checking on temperatures and things like that -- they can be rest assured that they're probably in a really good and safe environment," he said.
Office Space
However, prevention goes beyond sanitation and temperature checks.
Suzanne Brasuell, COO for ENTOS Design in Dallas, can attest to that. She normally directs her team of architectural interior designers to create office layouts for commercial, corporate and even healthcare spaces. But right now, their focus has shifted to helping clients retrofit existing office spaces for social distancing.
"People are craving getting back to the office," she said. "We're looking at their behaviors and how they're going to use this space, trying to help them understand what that new work environment is going to look like."
She shared some of their new, COVID-19 layouts, which call for specific paths of travel, sanitation stations, limited entrances, and no-touch areas for certain items like doorknobs. Soap dispensers may even be replaced with automatic ones.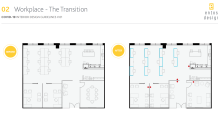 "How can we transform your environment to create barriers so that people feel safe at the workplace?" said Brasuell.
Huddle rooms in offices were popular, where teams could get together to work on projects or hold meetings. Now, those spaces might be converted to just two person use or another alternative.
Another big safety feature are barriers – like these clear shields manufactured by National Office Furniture. The shields can set up around the desk to help separate co-workers in an existing space.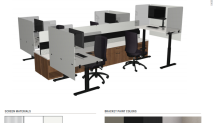 "It's an easy solution for some businesses who think, 'If this doesn't last forever, I don't' want to change everything in my office, I want to change it temporarily,'" said Brasuell. "But then some companies are coming to us and saying, 'No, I want this to be the standard going forward.'"
Something else Brasuell's own office is doing right now is staggered workdays or an A/B day schedule. That's where workers take turns throughout the week to come into the office while spending the other days working from home, further minimizing contact with each other.
"From a design standpoint, the designers at ENTOS really like to be together -- collaborating, selecting finishes, it's very much a community type of environment," she said. "So it's hard for us to 100 percent work from home and be away from each other."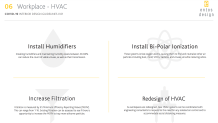 Still, many companies who have not returned to the office yet are evaluating whether or not there will be a second outbreak before making any big moves.
"Some are seeing that working from home works so well for them that they haven't seen a decline in their revenue. So they feel like it's not going to hurt their business for their staff to work from home. It just depends on what the actual office is doing," Brasuell said.