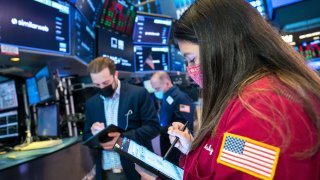 This is the daily notebook of Mike Santoli, CNBC's senior markets commentator, with ideas about trends, stocks and market statistics.
Market gets a bit of relief, selling pressure abating after a straight-down few days that got the indexes a bit oversold in the short term and saw the broad benchmark bounce near its 50-day average.
The morning bounces have been a bit technical and mechanical, as is often the case after a little volatility flare-up, traders testing out demand at levels that were sliced through a day earlier to see if the "nothing's really changed" crowd is there to buy the dip. So far this year, this process has played out a few times.

The S&P 500's peak-to-yesterday's-low drop was 4.4%, in the middle of the four pullbacks it's had this year. Note the high from today was right in the zone (4,120s) that the bulls were hoping would hold the market up 24 hours ago. This is the typical drill, to see if former floor has turned to a bit of a ceiling now. As you can see, the first bounce isn't often the start of an immediate "V" back to the highs, but anything can happen.
What has this all been about. Not specifically or mainly about one inflation report. The market has been pricing in a period of higher inflation for months, and the bond market's response to the hot, one-off CPI release was pretty tame. The chance for more inflation definitely is an input in the debate over how high a value to place on corporate earnings, but not the defining one. It will help shape the Fed tapering debate, but that's not this month's business.
A month ago this was the set-up: The S&P 500 was up 11% YTD and sat 16% above its 200-day average, pretty stretched. Investor allocations were near record highs in equities. Earnings were about to come in phenomenally strong, but the market already "knew" this. Gauges of economic acceleration – ISM, retail sales, etc. – were peaking. And after a 90% 13-month surge in stocks – the best ever and comparable only with the 2009 and 1982 ramps – everything pointed to a period of chop, payback and corrective action. It's all happening now.

The good news: The current bout of turbulence has come with no evident stress in credit markets or faltering macro drivers. Much more an equity repositioning in the context of a sloppy rotation (from out-of-favor growth/tech into cyclicals that now need a rest). Renaissance Macro shows that when the VIX spikes with no stirring of credit tensions, it tends to be a dip worth buying before too long:
The ARK/cloud software/EV/SPAC/trendy consumer tech stocks are the new epicenter names. They don't act well, oversold but not responding to it. There will be strong, ferocious bounces, but hard to see how they resume leadership or make a close approach to the old highs any time soon. This is a milder mini-version of the year-2000 tech implosion – former favorites were abandoned and one had to be selective on picking survivors/winners.
Mega-cap tech is a different species: All about the demand for steadiness, reliable cash flows. The Nasdaq 100 has given up all of the extra P/E premium it built up over the S&P 500 since 2019 and tech now has the same forward valuation as industrials, a more balanced market.
Walt Disney heads into its earnings with the stock in a bit of a malaise, six months of heavy sideways action to digest the massive 2020 run. Valuation is a step-function above pre-Disney+/pandemic levels, to the point it becomes harder to trade the stock as a reopening play (not a ton of earnings leverage relative to its market cap). Still a strong long-term trend and a core member of the elite American brands portfolio along with NKE, SBUX.
Musk about-face on bitcoin another reveal of how much crypto is a social/influencer game of collective belief with a bit of fintech on the side. BTC already traded heavy, regulators want to draw some tighter lines. TSLA itself bogged down, not bouncing despite touching the 200-day average and getting almost as oversold as it's been in a year.
Market breadth is iffy given the S&P up >1%. Nasdaq 50% volume split and NYSE 60/40. Still a tentative tape, not unusual after a shakeout.

VIX off hard, helpfully, now has a good spike on the chart. Still not fully settled down though.
Copyright CNBCs - CNBC