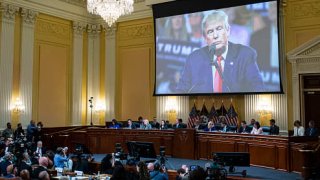 This was CNBC's live blog tracking Tuesday's hearing on the Jan. 6, 2021 attacks on the U.S. Capitol.
The fourth hearing of the House select committee investigating the Jan. 6 Capitol riot heard Tuesday from state election officials in Arizona and Georgia, two states key to President Joe Biden's electoral victory, about how then-President Donald Trump and his allies leaned on them to help overturn his loss in the 2020 election.
Georgia Secretary of State Brad Raffensperger, whom Trump asked to "find" votes in a leaked phone call, testified that Trump received fewer votes than expected because roughly 28,000 Republicans who voted didn't choose a president that year, supporting GOP candidates for other offices instead. Raffensperger's chief operating officer, Gabriel Sterling told the panel he became "irate" when election workers were threatened after Trump made false claims about the results. One of them, he said, was threatened to be "hung for treason" after transferring an election report to a county computer.
Republican Arizona House Speaker Rusty Bowers described how "painful" it was to have friends turn on him "with such rancor" after he refused to overturn Biden's win, and how a pistol-toting man threatened his neighbor during protests outside Bowers' home.
And former Georgia election worker Wandrea ArShaye "Shaye" Moss testified about the racist threats and death wishes she received after becoming the focus of a Trump conspiracy theory.
Text messages displayed by the committee showed that a top aide to Republican Sen. Ron Johnson of Wisconsin tried to send a slate of phony Electoral College electors from that state and Michigan to Vice President Mike Pence on Jan. 6, 2021.
Rep. Adam Schiff, D-Calif., a former federal prosecutor, led the questioning. He called Trump's lies about the election results "a dangerous cancer on the body politic."
Georgia election worker says lies about her committing fraud 'turned my life upside down'
Georgia election worker Moss, who was falsely accused by Giuliani of election tampering, said that being targeted by Trump and his allies has "turned my life upside down."
"I no longer give out my business card. I don't transfer calls. I don't want anyone knowing my name. I don't want to go anywhere with my mom, because she might yell my name out over the grocery aisle or something," she said in emotional testimony.
"I haven't been anywhere at all. I've gained about 60 pounds. I just, don't do nothing anymore," she said. "It's affected my life in a major way. In every way. All because of lies. From me doing my job, the same thing I've been doing forever."
Schiff also played clips of testimony from Ruby Freeman, Moss' mother, who said she was also tarred with false election-fraud claims.
"I've lost my name, and I've lost my reputation. I've lost my sense of security. All because a group of people, starting with number 45, and his ally, Rudy Giuliani, decided to scapegoat me and daughter, Shaye, to push their own lies about how the presidential election was stolen," Freeman said.
— Kevin Breuninger
Texts show Mark Meadows wanted to send a 's---load of POTUS stuff' to Georgia investigators, Schiff says
The committee obtained text messages showing that Trump's former chief of staff, Mark Meadows, wanted to send "a shitload of POTUS stuff" to officials investigating Georgia's election results, Schiff said, quoting a White House aide.
That stuff included "coins, actual autographed MAGA hats" and more, Schiff said. "White House staff intervened to make sure that didn't happen."
— Kevin Breuninger
Emotional Bowers says threats, harassment were 'disturbing'
Bowers teared up and he described harassment and threats in his neighborhood and outside his home following his refusal to attempt to overturn Arizona's election results.
Thousands of voicemails, emails and texts "saturated" his office and made it impossible to work, Bowers said. But at home, "up until even recently, it is a pattern in our lives to worry what will happen on Saturdays," he said.
He said that groups would drive video-panel trucks by his house accusing him of being a pedophile and a corrupt politician. Bowers said that they would be "blaring loudspeakers in my neighborhood" and would start arguments with neighbors. He recalled one instance where one arguer was carrying a gun.
Bowers also said that the harassment outside his home "upset" his daughter, who at the time was gravely ill and died in late January.
"So, it was disturbing," Bowers said.
— Kevin Breuninger
Trump lawyer Eastman urged Bowers to decertify election results 'and let the courts sort it out'
Bowers said that John Eastman, a lawyer for Trump, had asked him in a phone call to hold a vote to decertify Arizona's electors.
"Just do it and let the courts sort it out," Eastman said in that call, Bowers told the committee.
Bowers said he replied: "You're asking me to do something that's never been done in history — the history of the United States — and I'm going to put my state through that without sufficient proof? And that's going to be good enough with me?"
Bowers declined, and that was the end of the call, he testified.
— Kevin Breuninger
Bowers said he refused Giuliani's request to hold a hearing on fraud claims: 'I didn't want to be used as a pawn'
Arizona's Republican House Speaker said he "refused" a request by Giuliani to hold an official committee hearing at the Arizona capitol to hear claims of fraud.
"I did not feel that the evidence, granted in its absence, merited a hearing, and I didn't want to be used as a pawn," Bowers said.
The request came during a phone call with Giuliani and Trump. Bowers said he asked why they wanted a hearing, and was told that they wanted the chance to remove the electors for Biden and replace them.
"That's totally new to me, I've never heard of any such thing," Bowers said he replied. "I said, 'Look, you're asking me to do something that is counter to my oath when I swore to the Constitution to uphold it ... this is totally foreign as an idea or a theory to me, and I would never do anything of such magnitude without deep consultation with qualified attorneys.'"
"You're asking me to do something against my oath, and I will not break my oath," Bowers recalled saying.
— Kevin Breuninger
Arizona official Rusty Bowers rebukes claim he told Trump the election was 'rigged'
Schiff asked Bowers about a statement from Trump released Tuesday morning, in which the former president claimed that Bowers in a November 2020 conversation "told me that the election was rigged and that I won Arizona."
Bowers responded, "I did have a conversation with the president. That certainly isn't it. There are parts of it that are true, but there are parts that are not, sir."
"Anywhere, anyone, anytime has said that I said that the election was rigged, that would not be true," Bowers said.
Trump's claim that Bowers said he won Arizona "is also false," Bowers told Schiff.
— Kevin Breuninger
Schiff says Trump likely violated 'multiple federal laws'
Schiff, citing a federal judge, said Trump and his allies "likely violated multiple federal laws" in pressuring state officials to change the results and decertify electors.
He cited U.S. District Judge David Carter, who in a prior court filing characterized the plot by Trump and his allies as a "coup in search of a legal theory." Schiff, a former U.S. prosecutor, said Trump may be guilty of "conspiracy to defraud the United States."
"President Trump's pressure campaign to stop the electoral count did not end with Vice President Pence – it targeted every tier of federal and state elected officials," Carter wrote. "Convincing state legislatures to certify competing electors was essential to stop the count and ensure President Trump's reelection."
Trump's lie "was, and is, a dangerous cancer on the body politic," Schiff said. "If you can convince Americans that they cannot trust their own elections, that any time they lose, it is somehow illegitimate, then what is left but violence to determine who should govern?"
— Kevin Breuninger
Cheney: 'We cannot let America become a nation of conspiracy theories and thug violence'
Trump "didn't care about threats of violence" against election officials, Cheney said.
"He did not condemn them, he made no effort to stop them; he went forward with his fake allegations anyway."
Cheney also said that Georgia election official Sterling "explicitly warned" Trump about potential violence more than a month before the Jan. 6 Capitol riot.
"I would urge all of those watching today to focus on the evidence," Cheney said. "Do not be distracted by politics. This is serious. We cannot let America become a nation of conspiracy theories and thug violence."
— Kevin Breuninger
Trump knew his election claims were 'nonsense,' but still pressured states, Cheney says
As in previous hearings, the committee sought to make clear from the outset that Trump had been repeatedly told that his claims of widespread, election-changing fraud were "nonsense" — but he nevertheless kept spreading them.
Cheney asked viewers to keep that in mind while listening to calls made by Trump to officials in Georgia and other key states.
She then played clips of Trump's attorney general, William Barr, and acting deputy attorney general, Richard Donoghue, telling the committee that they saw no evidence to back up key fraud claims.
The allegations about fraud in Fulton County, Georgia, "had no merit," Barr told the committee in a taped interview. "There was no evidence of a subterfuge to create an opportunity to feed things into the count ... so we didn't see any evidence of fraud in the Fulton County episode."
Donoghue, in a separate clip, recounted telling Trump words to the effect of, "Sir, we've done dozens of investigations, hundreds of interviews. The major allegations are not supported by the evidence developed."
— Kevin Breuninger
'Trump had a direct and personal role' in pressuring state officials to help overturn 2020 election, Cheney says
Trump and his allies were directly involved in pressuring state officials and institutions as part of their efforts to overturn the 2020 election, Cheney said.
"Trump had a direct and personal role in this effort," Cheney said in her opening remarks, along with Trump's former lawyers Rudy Giuliani and John Eastman.  
"In other words, the same people who were attempting to pressure Vice President Mike Pence to reject electoral votes illegally, were also simultaneously working to reverse the outcome of the 2020 election at the state level," Cheney said.
"Each of these efforts to overturn the election is independently serious; each deserves attention both by Congress and our Department of Justice," Cheney said. "And all of this was done in preparation for January 6th."
— Kevin Breuninger
'The lie hasn't gone away,' Thompson warns
Select committee chairman Rep. Bennie Thompson, D-Miss., warned that the "Big Lie" that the 2020 election was compromised by widespread fraud "hasn't gone away" in the wake of the Capitol riot.
"It's corrupting our democratic institutions. People who believe that lie are now seeking positions of public trust," Thompson said at the start of the hearing.
The chairman's opening statement cited a New Mexico county commission that initially refused to certify the results of a primary election weeks earlier. After the courts stepped in, two of three of the commissioners "finally relented," Thompson said, but one still refused, saying his vote was "based on my gut feeling and my own intuition, and that's all I need."
For those officials, "their oath to the people they serve will take a back seat to their commitment to the Big Lie," Thompson said.
— Kevin Breuninger
Schiff says Trump ex-chief of staff Meadows had 'intimate role' in plot to pressure state officials
The hearing will show that Trump's last chief of staff, Mark Meadows, played an "intimate role" in the effort by Trump and others to pressure state officials in Georgia to change the 2020 election results, Rep. Adam Schiff, D-Calif., said.
Schiff, who is set to lead the select committee's fourth hearing, told the LA Times that the panel will share new information about Meadows' appearance at a pivotal Georgia election meeting.
The committee will also reveal new text messages about Meadows' plans to send merchandise autographed by Trump to the people conducting an audit in the Peach State, Schiff said, the newspaper reported Monday.
— Kevin Breuninger
Copyright CNBC