Bundle up, folks, the temps are going to drop. So as the mercury drops into the upper '50s, here's some cool events to kick off your October.
THURSDAY, 10/4
Hitchcocktober: The master of suspense's films are on display at both the Dallas and Plano locations of the Angelika Film Center each Thursday in October. "The Birds" kick off the free outside show in Dallas, while Plano is showing "Marnie" in the comfy seats for $5 a ticket. Full schedule and other details are here.
Leon Russell: The great Leon Russell put out an incredible record with Elton John back in 2010 that put him back in the spotlight and, shortly after, into the Rock and Roll Hall of Fame. Russell will bring his "Tulsa Sound" to Strauss Square in Dallas at 8 p.m.
FRIDAY, 10/5
Fright Fest: The first day of Fright Fest was a big bust last Friday -- all because a water main burst and shut down the park. But for this weekend, Fright Fest looks like a great option. We far prefer standing in lines in Fall temps instead of Summer, and with a bunch of haunts and scares roaming the park, it's sure to get you into the Halloween mood quickly. Head to Six Flags Over Texas for a scary night of fun.
SATURDAY, 10/6
Tour of Gymnastics: Gold medal winning gymnasts are headed to the American Airlines Center for a high-flying, flipping display of why they dominated at this year's Olympics. Listed cast includes Gabby Douglas, McKayla Maroney, Aly Raisman, Kyla Ross, Jordyn Wieber, Nastia Liukin, Alicia Sacramone, Chellsie Memmel, Rebecca Bross and more, but that list could change when they're in Dallas due to other commitments.
SUNDAY, 10/7
David Byrne: Founding member of Talking Heads (Which we love), Byrne's been on his own as a solo artist for a long time. His novel sound and authentically artistic slant have lead him to work with all sorts of other artists, making beautiful music together. That being said, it's best to study up for a Byrne show, so that you know the songs -- often the arrangement varies wildly when played live, which makes the decoding of the tune part of the show's fun.
---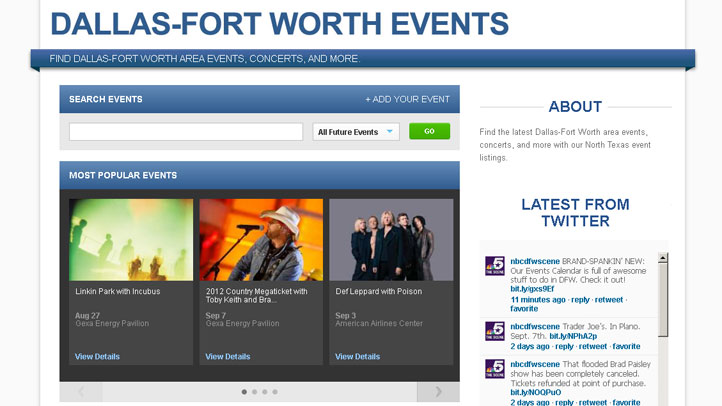 What You're Doing This Weekend:
Find the latest Dallas-Fort Worth area events, concerts, and more with our North Texas event listings. Click here for more.