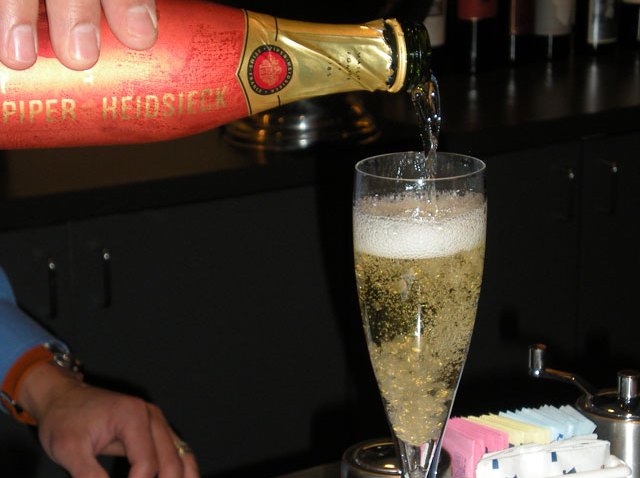 It looks like a science experiment is taking place at the M Bar inside Neiman Marcus at Northpark Center in Dallas. There are beakers, a syringe, and the goal of turning a liquid liquer into a solid.
The process is called Molecular mixology --a method that combines scientific analysis with recipes for cocktails.
For French beverage-maker Remy Cointreau, the M Bar was the perfect place to debut its new Cointreau pearls.
"It took Remy Cointreau 12 months to perfect this. We started in 2007 and finally perfected it in 2009," said Dallas-based Cointreau rep Joana Esquivel.
The result is the $24 Piper-Heidsiek with Cointreau pearls. Edible 14k gold flakes are wrapped in tiny Cointreau pearls that dance in champagne.
"We felt partnering with Neiman's, which is the ultimate in being fashion forward, makes sense for both portfolios," explained Esquivel. "We are both premium luxury companies. This is a luxury item enjoyed while you're here shopping. It's also offered at catered events."
NBC DFW was with local lifestyle expert Tara Wilson as she tasted the drink for the first time.
"I'm a big foodie and champagne is my drink of choice," said Wilson.
First, though, Wilson just had to find out what 14k gold flakes taste like. "I've never eaten gold flakes," Wilson said. She soon discovered they have "no flavor."
Bartender Jose Mejia adds the gold flakes to a beaker containing Evian water, Cointreau, and Cointreau's specially made Spherigel. A syringe is used to put drops of the mixture into a second beaker with more Evian water ("You have to use Evian because of the pH balance," explained Esquivel.) and a second Cointreau made powder called Calci. It's there that Cointreau liqueur is transformed into tiny gel-like pearls.
"This last part, this is the one of the reasons why you buy this. It's an experience," said Esquivel.
The Cointreau pearls -- shimmering with gold flakes -- are placed in a champagne flute and float in Piper-Heidsieck champagne.
"It's fascinating," said Wilson. "It's exclusive to Neiman Marcus. It doesn't seem like it gets a tremendous amount of exposure. I think [shoppers] should experience it, yes. Would it be a go-to drink? No, it's special occasion."
Esquivel called it "a great little find for the girlfriends."
"This is an extra step that uses new tricks. You are a chef, just behind a bar. It's exciting for us and the guests. Let's them enjoy something different," said Mejia who was trained by one of Cointreau's ambassadors.
The Piper-Heidsieck with Cointreau pearls is exclusive to Neiman Marcus among fashion retailers. The M Bar is the only place to get the drink in North Texas, and it's just one of ten places in the United States to offer it.