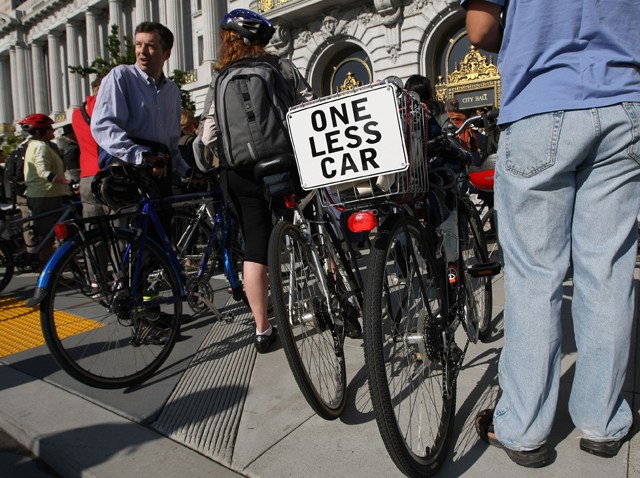 As was mentioned on Unfair Park this week, Bike Friendly Oak Cliff unleashes the ten-day bicycle fest Cyclesomatic on a city that made Bicycling magazine's Worst Cities for Cycling list. The gist of the site's findings:
"Dallas boasts a vibrant cycling community, but riding in and around the city requires nerves of steel."
The sheer existence of Cyclesomatic affirms the enthusiasm of Dallasites for making bicycles a feasible workaday transportation option. Robert Wilonsky of Unfair Park actually picked up the Worst Cities link from a blog post by Dallas City Councilmember Angela Hunt, who's leading a bike ride to City Hall on October 7 where she'll help show off some new city-led initiatives for more bikeable streets (Dallas gets something called a bicycle coordinator, even.)
As it stands, we realize some readers may not have stated nerves needed to traverse Dallas on two wheels regularly. Those without Schwinns in their two-car garages can still see Dallas music history by bike or play a game of polo from the seat of a rental. (Sounds like a blast, right? Click through the Cyclesomatic schedule here.) We don't see renting a bike for the event as a bandwagonesque move; it's a demonstration in good faith that Dallas will do its part to improve the streets -- or a test-drive of the roads as they are.
Jeremy Ordaz of the new Oak Cliff Bicycle Company tells us he'd hoped to have rentals in time for the event, but things aren't ready just yet. He helped us out with two referrals.
Where to Rent a Bike for Cyclesomatic
A hop away from Katy Trail, this shop is providing the bikes city council members will ride to City Hall as part of Cyclesomatic. Fleetwood's focuses on customizing sweet rides for customers but still rents out about 25 cruiser style bikes (read: the cute, beach-tastic leisure kind) with helmets and locks included at no charge. You pay $15 for the first hour and $5 for every hour after that. Owner Fleetwood says staffers will even adjust seats for newbies if they need help.
RBM has shops in Richardson and Frisco and one the east side of White Rock Lake. Though the stock of rentals is thick with rides for triathletes and high-dollar mountain bikes, there is a selection of hybrid and road bikes for city rides. Mark Manson of RBM in Richardson recommends a hybrid bike for Cyclesomatic purposes -- mention the event and you can get the $30 a day rate usually reserved for rentals lasting 3 days or longer, even if if you just want to keep the bike for a day or two.
Copyright FREEL - NBC Local Media