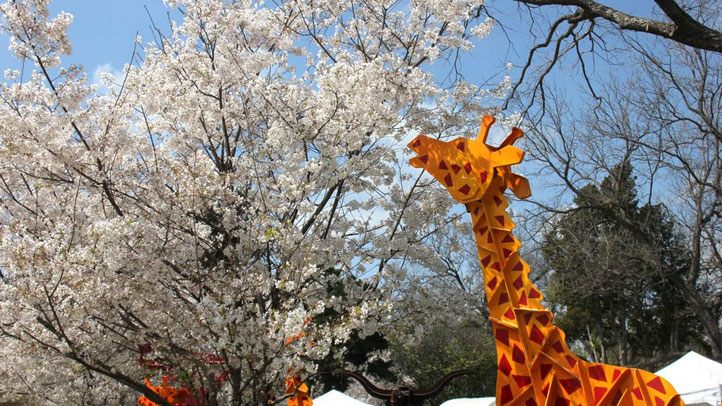 Spring flowers are here in full force and Dallas features 66-acres worth of this season's most colorful blooms.

This spring, the Dallas Arboretum invites everyone to enjoy the 27th anniversary of Dallas Blooms. The "floral festival" is comprised of 500,000 spring-blooming bulb including tulips, daffodils and hyancinth, 3,000 azaleas, 100,000 pansies, violas, poppies and more along the southeastern shore of White Rock Lake in Dallas.

Though regularly on MSNBC's top ten things to do in America in the spring, Dallas Blooms is not the only attraction the Arboretum offers.

Besides seasonal flowers, ornamental shrubs, trees and plant, the garden is home to seasonal outdoor festivals, concerts and more. One event that you may not have heard about was the ArtScape three-day art fair that occurred March 19-20.

In it's sixth year, the art show featured artists from around the country. Art for this annual juried art show were on sale inside white tents on the Arboretum's Pecan Grove.

Fort Worth photographer Meredith Case was among the 100 artists. Photography from her travels to Florida, Virginia, Italy and New Zealand were on display for the first time but she was just as excited to see the other art.
"People come for Dallas Blooms but there are amazing artists out here," said Case. "This is how we keep our skills alive...in little white tents. It's good to be a part of it."

Through the Arboretum's partnership with the Creative Arts Center of Dallas and the Southwest Watercolor Society, visitors also had the opportunity to watch artists share their creativity through sculpture, mosaics, watercolor, jewelry making, printmaking, painting, woodworking and more.

If you missed this year's ArtScape, you can check in with the Dallas Arboretum for next year's event. The Dallas Blooms will be in full glory through April 10. So go ahead, stop by and smell the roses!