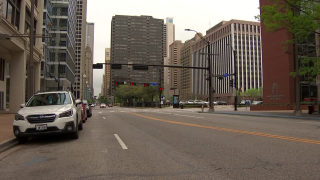 Dallas Mayor Eric Johnson's office tells NBC 5 Investigates city code compliance officials have issued 150 notices for violations of the city's COVID-19-related orders restricting large gatherings and requiring social distancing.
According to the city's 311 data, since March 17 there have been 1,167 complaints filed to 311 code compliance concerning emergency regulation violations.
No citations have been issued and thus far businesses and groups have just been warned. The mayor's office did not immediately have a breakdown of the types of notices issued.
Dallas police say that as of late Tuesday afternoon they'd had no problems with large-group gatherings since the order to stay home went into effect.
NBC 5 Investigates
Uncover. Reveal. Expose.
The city was quieter than normal, but people still took walks at places like the Katy Trail.
"You don't see as many cars on the road, you don't see as many people out, except today, of course," Dallas Resident Jamie Martello said.
Martello and others told NBC 5 they are adhering to the order and doing their best to stay six feet from others in public areas. The shelter in place order does not prevent people from going outdoors but does urge them to practice social distancing.
"I think we should be a little more careful about it," Louis Dorantes said.
Dorantes and his family visited Reverchon Park in Dallas, where directly behind them, dozens played basketball and used a playground closed by the city. According to the City of Dallas, over a thousand complaints have been filed to code compliance since last week.
"I feel like people are out right now because they want to feel like things are normal," Dominque Harris said, who was picnicking with a friend.
Harris, like Martellow said she was practicing social distancing but agreed it was important to get outside and enjoy a beautiful day at a time when a break is badly needed.
"I feel like the virus has forced everyone to take a step back, live in the moment and re-evaluate what the heck is going on in our world," Harris said.
Police said they would be politely reminding people about social distancing across the city, in hopes of staying well.
But the police department said it believed people would follow the rules to help each other during the pandemic.
The slowdown in everyday life was also evident on the streets. The North Texas Tollway Authority said traffic last week dropped 44% compared to the same time a year ago.