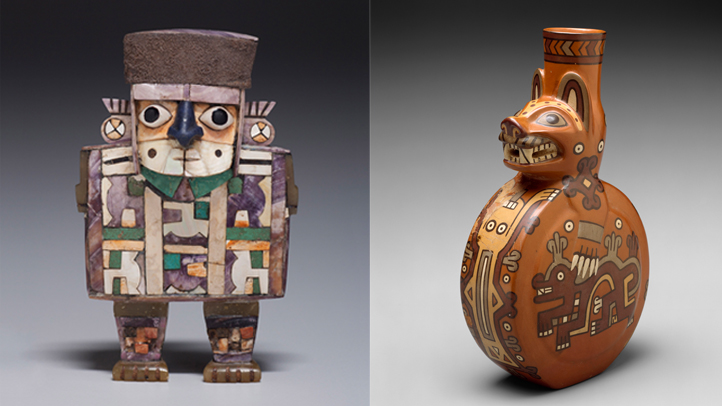 Visit the Kimbell Art Museum June 16 through September 8 to experience the groundbreaking exhibition Wari: Lords of the Ancient Andes. The exhibition is only the second exhibition in the world to be devoted to the arts of the Wari Empire, and the first of its kind in North America. Bringing together objects from public and private collections all over the world, including several objects that have never been seen outside the countries in which they now reside, this exhibition offers a unique opportunity to experience an extraordinary civilization in great depth and detail.
The ancestors of the Inca between 600 and 1000, created a complex society that many today regard as ancient Peru's first empire. This momentous exhibition explores the Wari's artistic achievements through more than 145 startlingly beautiful objects highlighting all major media. The exhibition is organized in four thematic sections such as, The Gift of Food and Drink, The Wari Realm, The Art of Regalia, and the Offerings and Ancestors.
Wari: Lords of the Ancient Andes is organized by the Cleveland Museum of Art. It has been made possible in part by the National Endowment for the Humanities: Exploring the Human Endeavor. It is supported in part by The Federal Council on the Arts and the Humanities, Promotional support is provided by American Airlines, The Fort Worth Star Telegram and NBC 5.
Community
Connecting NBC 5 to the community we serve.
Wari: Lords of the Ancient Andes
Kimbell Art Museum
3333 Camp Bowie Blvd.
Fort Worth, TX 76107
Closed Monday
Tuesday through Thursday: 10:00 a.m. – 5:00 p.m.
Friday: Noon – 8:00 p.m.
Saturday: 10:00 a.m. – 5:00 p.m.
Sunday: Noon – 5:00 p.m.
817-332‐8451
www.kimbellart.org
*Admission to this exhibition is $16 for adults; $14 for seniors age 60 and over and for students with an ID; $12 for children ages 6–11; and FREE for children under 6 and for Museum members. Admission is half-price on Tuesdays and after 5:00 p.m. on Fridays.
*Admission to view the Museum's permanent collection is always FREE.