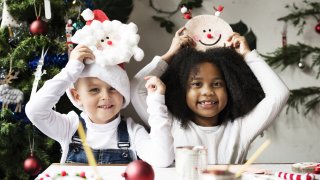 Poinsettias are in full bloom and the aroma of chestnuts has awakened the holiday spirit! Join NBC 5 and Telemundo 39 for family friendly events this holiday season! We have created a list of community forward causes and volunteer opportunities. The list also includes engaging family events that promote reading, culture, activities, and fun all immersed in one! Check out the list below to see how you can get involved.
For a list of holiday books perfect for any reading level, click HERE for our Reading With You: Holiday Edition 2021 list.
BURLESON
Polar Express Pajama Party
Burleson Senior Center
216 SW Johnson Ave.
Burleson, TX
Tuesday, December 14
6:00 p.m. - 8:00 p.m.
Click here for more information: www.burlesontx.com/1712/Polar-Express-Pajama-Party
Local
The latest news from around North Texas.
DALLAS
Black Nativity
Bishop Arts Theatre Center
215 S. Tyler St.
Dallas, TX
Now – December 18
Click here for more information: www.bishopartstheatre.org/theatre-series/
Letters to Santa
Park Forest Branch Library
3421 Forest Lane
Dallas, TX
Now – December 23
10:00 a.m. – 6:00 p.m.
Click here for more information:
www.dallaslibrary.librarymarket.com/Letters21BPF
Paddington Saves Christmas
Dallas Children's Theater
5938 Skillman St.
Dallas, TX
Now – December 23
Click here for more information: https://tickets.dct.org/57291
The Trains at NorthPark
N. Park Center
Dallas, Texas
NorthPark Center – 2nd Floor (Between Neiman Marcus and Nordstrom)
Now – January 2, 2022
Click here for more information: http://www.thetrainsatnorthpark.com/home-1.html
FORT WORTH
The Greatest Gift Catalog Ever
3149 S. University Drive
Fort Worth, TX 76109
Click here for more information: https://www.tggce.org/
GRAND PRAIRIE
Posadas at Traders Village
2602 Mayfield Rd.
Grand Prairie, TX
Now - January 2
Click here for more information: www.tradersvillage.com/grand-prairie/events/posadas-2021/
MCKINNEY
Holidays at the Heard
1 Nature PI
McKinney, TX
December 17 – 18
6:00 p.m. – 9:00 p.m.
Click here for more information: https://www.heardmuseum.org/holidays-at-the-heard/
PLANO
Photos with Santa 2021
The Shops at Willow Bend
6121 W Park Blvd.
Plano, TX
Now – December 24
7:00 p.m.
Click here for more information: https://www.visitplano.com/event/photos-with-santa-2021/
STEPHENVILLE
What Holly Jolly Christmas 2021
Downtown Square and Plaza
Stephenville, TX
December 13
6:00 p.m. – 9:00 p.m.
Click here for more information: https://www.stephenvilletexas.org/events/details/holly-jolly-christmas-2021-29361
TEAGUE
2nd Annual TFM Toy Drive and Ugly Sweater Party
Teague Farmers Market
406 Main St.
Teague, TX
December 17
7:00 p.m.
Click here for more information: https://m.facebook.com/events/1179984342494154
WEATHERFORD
Radiance at the Ranch: A Holiday Light Spectacular
2251 Mineral Wells Hwy.
Weatherford, TX
Now – December 31
6:00 p.m.
Click here for more information: https://fortworth.culturemap.com/eventdetail/radiance-ranch-holiday-light-spectacular/