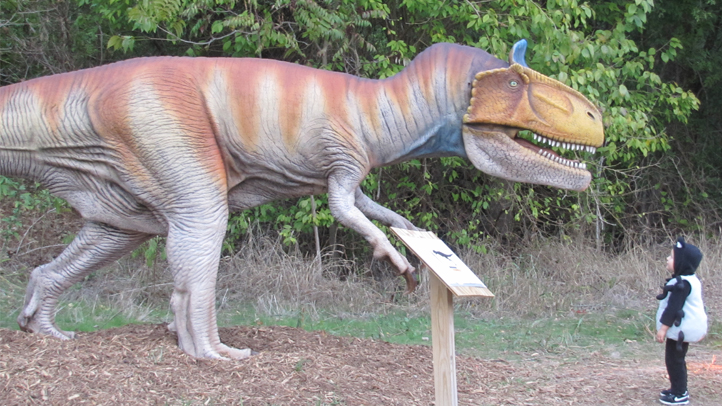 NBC 5 and the Heard invite you to Halloween at the Heard, Collin County's premier family-friendly Halloween event, which will be held at Heard Natural Science Museum & Wildlife Sanctuary from 6:00 p.m. – 10:00 p.m. on Saturday, October 18th. Guests will have the opportunity to experience an evening full of fun activities including trick-or-treating along the Dinosaurs Live! Live-Size Animatronic Dinosaurs trail.
Other Event Highlights Include:
A costume contest where kids ages 12 and under can share their creativity.
The G-rated movie, Wallace and Gromit: The Curse of the Were-Rabbit, will be shown under the stars in the Heard's outdoor amphitheater.
Those who dare can experience our new "Ghost Town" or take a trail detour after the movie through our "Haunted Forest" and encounter a ghost or creature of the night!
Visitors will get to walk through the Heard's indoor exhibits, which will be open throughout the event, and outdoor exhibit, Animals of the World, which will be open until dusk.
The Heard recommends that guests bring insect repellant, flashlights, blankets and/or stadium seats for use during the movie. Guests may also bring their own picnic dinner and non-alcoholic beverages.
Admission to this event is $15 for adults, $10 for children ages 3-12, and FREE for children ages 2 and under. See
www.heardmuseum.org
for more details.
About Heard Natural Science Museum & Wildlife Sanctuary
The Heard was founded in 1967 by Bessie Heard. Miss Heard was 80 years old when she saw the need to preserve a place where future generations could experience nature. Today, the Heard's mission of bringing nature and people together is carried out through education, particularly of young people, which emphasizes an appreciation of nature and its conservation.
Halloween at the Heard 2014
Saturday, October 18
6:00 p.m. – 10:00 p.m
Heard Natural Science Museum & Wildlife Sanctuary
1 Nature Place, McKinney, TX 75069
www.heardmuseum.org
Admission: $15 for adults
$10 for children ages 3-12
Free for children ages 2 and under