U.S. Attorney General Loretta Lynch has issued a video just days before a federal deadline, calling on all parties in the Dakota Access pipeline dispute to avoid violence.
Her video, released Friday evening, doesn't refer to an order for protesters to leave federal land by Monday. Authorities have said they won't physically enforce it.
Police Clash With Pipeline Protesters
In this video, law enforcement clashes with demonstrators protesting the Dakota Access oil pipeline in North Dakota, Nov. 20, 2016. Authorities defended their use of water hoses, against both fire and protesters, in the freezing weather. An explosion that occurred during the clash injured the arm of a protester, who was in serious condition and undergoing surgery. (Published Tuesday, Nov. 22, 2016)
Nor did she refer to her phone call to Morton County Sheriff Kyle Kirchmeier. He issued a statement urging fewer words and more action. He says she offered neither assistance for law enforcement, nor a timeline for resolution.
Sen. John Hoeven disputed Lynch's claim she's working with the state and its congressional delegation to find a resolution. He says the administration needs to provide more actual law enforcement personnel, not just advisers, and let construction resume.
Mark Ruffalo, Jesse Jackson Join Pipeline Protesters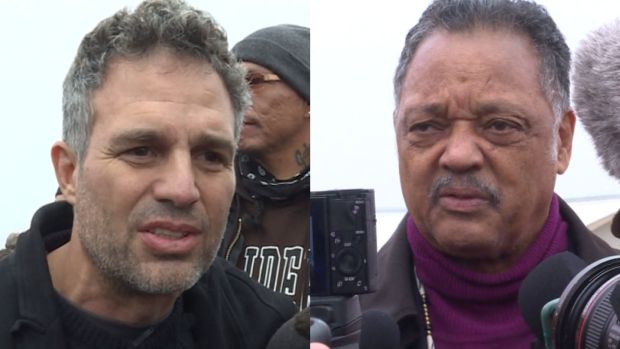 Actor Mark Ruffalo and civil rights leader Jesse Jackson join Native American protesters attempting to block construction of Dakota Access Pipeline. "The irony is they sent Native Americans out on these reservations to perish, only to find that there was great wealth beneath the soil," Jackson said. (Published Thursday, Oct. 27, 2016)
Published at 7:28 PM CST on Dec 2, 2016 | Updated at 7:58 PM CST on Dec 2, 2016