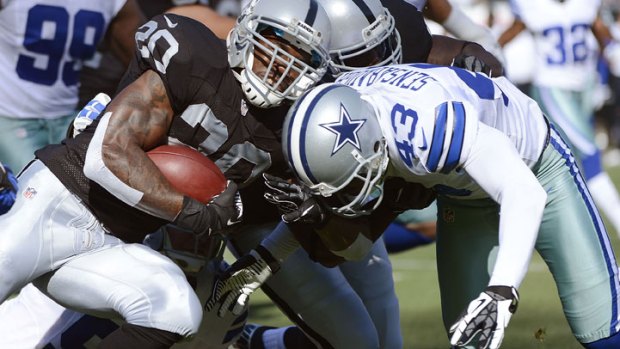 Getty Images
Darren McFadden #20 of the Oakland Raiders gets tackled after a short gain by Gerald Sensabaugh #43 of the Dallas Cowboys in the first quarter.
Gerald Sensabaugh is retiring with the Dallas Cowboys after spending the last half of an eight-year career with them.
The safety signed a one-day contract with the Cowboys on Thursday. He was released for salary cap reasons in March.
The 29-year-old Sensabaugh started 84 of 112 games for Jacksonville and Dallas. He had 14 interceptions and 469 tackles.
Sensabaugh was a fifth-round pick by the Jaguars in 2005 out of North Carolina. His best season came with the Cowboys in 2010, when he had career highs of five interceptions and 10 pass breakups. He also had the only two sacks of his career that year.
He appeared in three playoff games -- one with Jacksonville as a rookie in 2005 and two with Dallas in 2009.