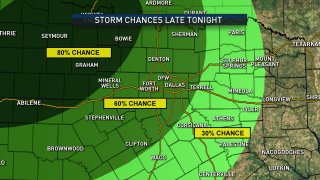 Storms developed Wednesday evening in West Texas. They will continue to move east overnight but as they do, they will weaken. It's possible for a few showers or a stray storm to make it into parts of North Texas, but most areas will be dry.
Additional storms are in the forecast for Friday and Saturday. Friday's showers and storms will be possible mainly in the afternoon and evening. The highest chance of showers and storms will be Saturday at just about any time during the day.
Are storms overnight rare? There's more on that here.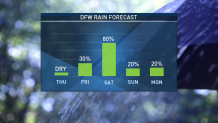 While severe weather is not anticipated at this time for the weekend, there could be some heavy rain. Between now and next Monday, up to one to two inches of rain is possible, with higher amounts farther south in Central and South Texas..
Any storm chances will be low Sunday and Monday and much of the time will be dry.