The National Weather Service confirms two EF-1 tornadoes touched down in northern Parker County before dawn Friday, injuring five people.
A survey team with the NWS assessed two damage tracks in Parker County and confirmed two separate tornadoes, each with max winds of 100 mph. One tornado developed near Whitt and the other tracked through Poolville.
The first tornado developed on the southern side of Whitt, touching down near Bounty Road at about 4:52 a.m. and stayed on the ground for about six minutes traveling nearly seven miles. The tornado track had a width of about 75 yards.
The EF-1 in Whitt overturned a large RV, injuring two people. As the tornado moved northeast, it damaged trees and roofs before rolling another large RV trailer on its side.
The second tornado developed along Pine Road west of Poolville, touching down at about 4:56 a.m. and staying on the ground for about four minutes, covering nearly 5 and a half miles as it moved northeast. The tornado track had a width of about 100 yards.
NWS crews also found damage to homes, including an area along Clover Drive near Texas 199 where there were three injuries reported.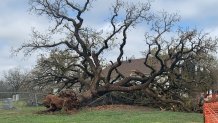 Shane Small said his house in Poolville narrowly dodged the tornado.
"It could've been a lot worse," he told NBC 5. "Somebody was looking out for us, that's for sure."
The storm did get to several 60-year-old oak trees around his home, shredding huge branches off the trunks.
"I yelled at the kids to run to the bathroom and get in the tub," Small recalls. "It sounded like a freight train about to come through the house."
Next door, Weatherford firefighters were helping one of their own who happens to live in Poolville. A woman who works in the department's administration had huge trees and limbs fall around her home.
A crew of firefighters, fresh off the night shift, put off sleep in order to help her clear the trees.
"That's what we do as a family. We come out and we help each other out just like any other family members," said firefighter Justin Mccauley.
The Red Cross confirms at least three families are displaced and will be put up in hotel rooms for now. Two of those families were inside RVs that flipped over in the winds.
"I got up because something crashed in the living room. I went in there and looked, and by that time, I was upside down. And I was flipping over myself. It flipped us over," said one man, who declined to give his name. "We came out alive, that's what matters."
His wife was injured and taken to the hospital but is expected to be OK.
In that area, the Red Cross confirmed it is helping a family whose trailer was destroyed. Volunteers said their teenage daughter was recently diagnosed with leukemia and the family will need financial assistance in the months to come.
Meantime, the Red Cross volunteers spent the day trekking across the town distributing tarps and gloves for clean-up efforts.
The damage is widespread in Poolville. The winds blew this man's back porch to his front porch.
Blocks away, a machine shop made entirely of metal was blown into the neighbor's backyard.
A 120-year-old structure known as the tabernacle was also destroyed. It was a gathering place for the town to host community events, funerals, and church revivals, and an Easter service was planned to be held there next month.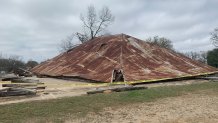 A firefighter with the town's volunteer fire department said fundraising has already started to have the tabernacle rebuilt.
Stay informed during severe weather season with our news and weather apps for phones, tablets and TVs. On phones and tablets, choose the breaking and weather alerts you want to receive. More details and links to app stores are here.