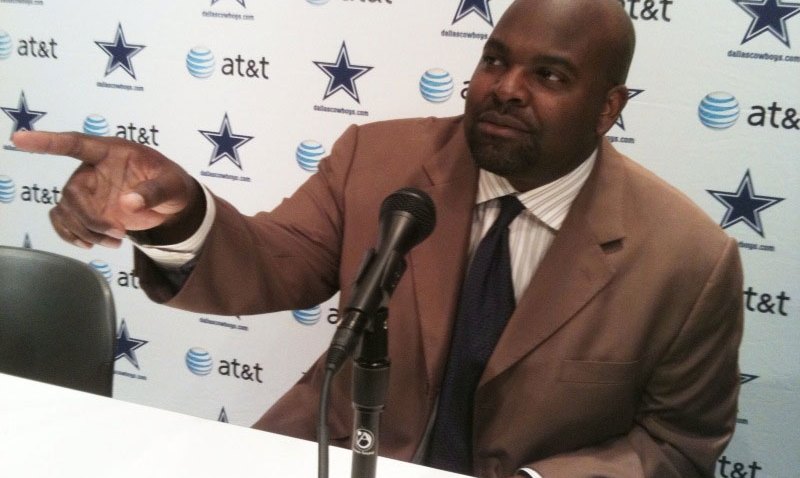 Great move I say. Great move.
Of course my 105.3 The Fan radio partner Richie
Whitt
said I was Dez Bryant's PR man all during the pre draft process, but I can't help it if I know talent.
Jones had to move up in the draft from 27 to 24 to to get his man.
New England
was willing to play ball. In addition to swapping first-round picks, the Cowboys traded their third-round pick (90th overall) for the Patriots' fourth-round pick (119th overall). The Cowboys' current remaining draft picks are No. 59 (second round), No. 119 (fourth round), No. 125 (fourth round), No. 196 (sixth round) and No. 234 (seventh round).
This is why I KNOW the Cowboys made a darn good move to get Dez, the
Baltimore Ravens
wanted to draft him at 25. After the Cowboys jumped the Ravens to take Dez they sent a text to the Cowboys war room to say that was the player Newsome wanted to draft.
Newsome is the best GM in the league on draft day in my opinion. Now, Bill Polian of the Colts is really darn good too. When you snake the Ravens, you are doing good work because they have drafted great players over the years like Ray Lewis, Jonathan Ogden, Ed Reed, Jamal Lewis, Joe Flacco, Peter Boulware, and Michael Oher.
Over the years, the Colts have surrounded Peyton Manning with great offensive weapons. Receiving targets: Marvin Harrison, Reggie Wayne, Anthony Gonzalez, Dallas Clark, and running backs Edgerrin James, Joe Addai, and Donald Brown were all taken in the first round to support him.
Jones has started to follow some of that philosophy in drafting Bryant.
The Cowboys now have given Tony Romo some very good receiving targets: Pro Bowlers Miles Austin and Jason Witten. Add in Roy Williams, Patrick Crayton, Kevin Ogletree, Martellus Bennett, and John Phillips. Running backs Felix Jones, Marion Barber, and Tashard Choice give offensive coordinator Jason Garrett a lot of options.
Scoring was an issue for the Cowboys last season. They were just 14th in scoring. Their 361 points, just one point more than Miami last season. It shouldn't this fall.
In 28 games over his three-year college career, Bryant had 147 catches for 2,425 yards (16.5 avg.) and 29 touchdowns. The Cowboys also valued him as arguably the strongest kick returner in the draft.

He fell over concerns about his maturity. He was suspended most of the 2009 Oklahoma State season by the NCAA for lying about having dinner with former Dallas Cowboy Deion Sanders.
Cowboys Vice President Stephen Jones told me Bryant is a good person and they enjoyed their visit with him. NFL.com's Gil Brandt told me Bryant is not a bad kid.
Cowboys receivers coach Ray Sherman said Bryant has the ability of Terrell Owens. Sherman has the best resume of pupils I've ever seen: Randy Moss, Cris Carter, Javon Walker, Terrell Owens, Terry Glenn, Donald Driver, Miles Austin, and some dude named Jerry Ricke.
It was a risk to take Bryant but so was passing on Randy Moss in 1998.
Selecting Bryant may be the best motivator going for wideout Roy Williams who has not lived up to expectations since coming over from the Lions. Jones says the club is not moving Williams. I hope this motivates him to start producing at a Pro Bowl level. If so, look out, the Cowboys could be dangerous.

Newy Scruggs
www.newdawg.com