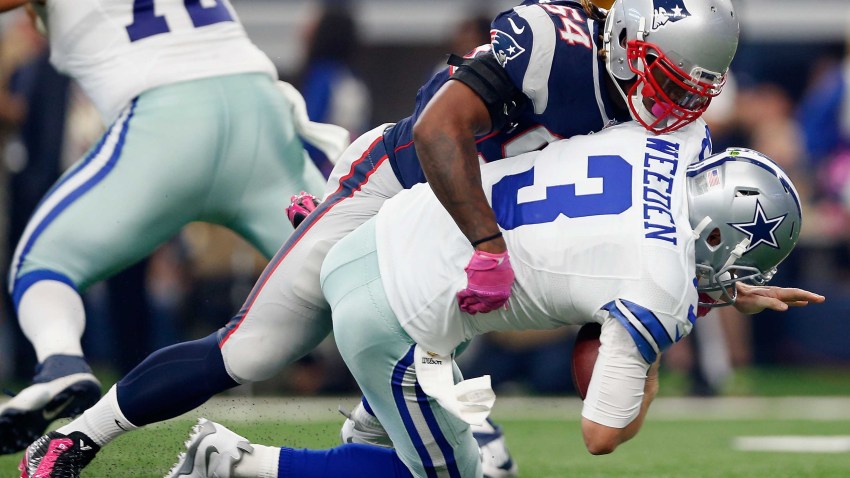 Brandon Weeden shouldn't have a starting job with the Cowboys. Or, at this point, a roster spot.
I'm not surprised, obviously. I'm the one who graded Weeden as one of the Worst 10 Backup Quarterbacks in the history of this franchise, and the one who predicted Matt Cassel would start a game before Tony Romo.
After Sunday's hapless performance and another loss, I see no reason to back off either of those opinions.
Sports Connection
Connecting you to your favorite North Texas sports teams as well as sports news around the globe.
And I'm ramping it up. Cassel should start against the Giants after this Bye week, and because I just can't envision a scenario where having him on the field is any sort of asset, Weeden should be an ex-Cowboy. Weird to say after a game in which at one point he completed 19 of 20 passes, but if you watched Patriots 30, Cowboys 6 you saw it too.
It's not really what he does. It's what he doesn't do. Or, even more telling, what he can't do.
The Patriots' cornerbacks – as did the Saints' – constantly played press coverage with zero fear of getting beat deep. Part of that is the receivers' inability to consistently win at the line of scrimmage. But a bigger part is Weeden's reluctance to throw the ball out of his shadow.
Weeden completed more passes than Tom Brady on Sunday. But his 26 connections averaged a paltry 3.9 yards. That's a stat more befitting a running play. And one that you won't find associated with a winning football team.
As I've said before, Cassel may not be the answer. But we're absolutely certain that Weeden isn't.
The fans want a change. You know the owner wants a change. And the players – if they're honest – also desire something different.
Weeden's a good guy. But he's a bad quarterback. With him in charge, Jason Garrett has the first three-game losing streak of his career and NFL teams have lost 11 consecutive times. Blame defense and receivers and whatever you want, the common denominator is that Weeden isn't good enough to win in the NFL. And if you – or Garrett – maintain the ol' "he gives us the best chance to win," then you should immediately be subjected to concussion protocol.
With Weeden the Cowboys are hopeless. And without hope, you lose players and you lose fans and you lose relevance. Keep Weeden as your starting quarterback and by the time Tony Romo returns Nov. 22 the season will be kaput.
With three spots on 32 teams, there are approximately 100 quarterback jobs in the NFL. Think of it this way, if the Cowboys cut Weeden today he wouldn't be signed by another team.
Cassel may not be better. But there's no way he's going to be worse.
A native Texan who was born in Duncanville and graduated from UT-Arlington, Richie Whitt has been a mainstay in the Metroplex media since 1986. He's held prominent roles on all media platforms including newspaper (Fort Worth Star-Telegram, Dallas Observer), radio (105.3 The Fan) and TV (co-host on TXA 21 and numerous guest appearances, including NBC 5). He lives in McKinney with his wife, Sybil, and two very spoiled dogs.
Copyright FREEL - NBC Local Media