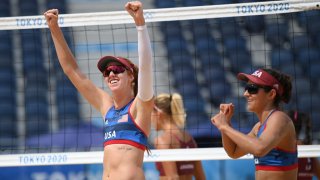 The following content is presented by Nissan. It does not reflect the work or opinions of the NBC stations news staff. Click here to learn more about Nissan.
In our Thrills in Tokyo series, we'll highlight some of the summer Olympics biggest competitions. More than just focusing on the teams, we'll look at the colleges from which these athletes hail.
While the spotlight may be on April Ross' quest for her third Olympic medal—after capturing silver at the 2012 London Games and bronze at the 2016 Rio Games—first-time Olympians Sarah Sponcil (University of California, Los Angeles) and Kelly Claes (University of Southern California) are also ready to shine.
The addition of beach volleyball to the NCAA National Championships in 2016 has brought a breath of fresh air to the sport. Before that, beach volleyball relied on players who lobbed indoors in college, then switched to the outdoors. The Sponcil-Claes duo is the result of that: They're making U.S. history as the youngest beach volleyball pair to compete in the Olympics.
"I think a lot of athletes in the U.S., this younger generation, is coming up because of the NCAA, which is super exciting," Claes said after the three-set victory over fellow Trojan Tina Graudina and Anastasija Kravcenoka of Latvia. "I'm really excited to see just how the sport grows even more because of that."
The road to Tokyo hasn't been easy. Sponcil and Claes had played for rival schools (USC and UCLA) and each won back-to-back NCAA beach volleyball titles before joining forces in 2018 at the professional level. Though they remained winless in their first 20 events, their strong performances left them in third in the race for the coveted two American spots for the Olympics.
Then this year's Sochi Open came around and everything changed. They ended up winning the last two qualifying events, securing their tickets to Tokyo. This also meant that five-time Olympian Kerri Walsh Jennings would miss her first Olympics in 20 years. "It's for sure been a wild ride," offered Trojan Claes, who started playing with Sponcil in 2019. "But I wouldn't want to do it with anyone else."
Sponcil, a 24-year-old Arizona native, started her volleyball career indoors. After competing in both indoor and beach modalities at Loyola Marymount University for three years, she transferred to UCLA and decided to stick to sand. It was the right decision: Sponcil led the Bruins to back-to-back NCAA Championships in 2018 and 2019. Besides volleyball, she's known for riding her unicycle around Hermosa Beach.
For her part, Claes always knew she'd make it to the Olympics—though as a youngster, she wasn't sure which sport would take her there. Her competitive nature has been seen in the basketball, softball, and volleyball courts. When she was about to finish high school, she knew it was time to decide. In the end, USC's beach volleyball team was the chosen school. Claes starred for the Trojans over her four years, being a part of four national championships and earning two Pac-12 Player of the Year awards.
Though close in age—Sponcil is 24 and Claes 25—they never played against each other at the college level. This may have helped them become good friends, both on and off the court. Known for rewriting hit pop songs and performing them on social media, it's clear teaming up was the right choice. "We're both so goofy and dorky," said Claes. "We play off of each other so well."
For sports excitement, turn to the Olympics. For driving thrills, click here to see what Nissan has to offer.
Catch full Olympic coverage on NBC, including the USA Women's Beach Volleyball, tonight, Wednesday, at 8:00 p.m. ET, and Friday, at 8:00 p.m. ET.