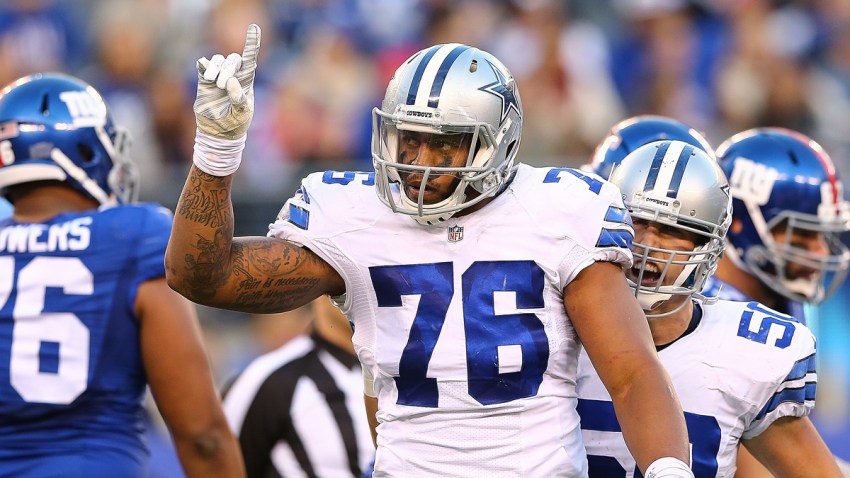 Hall of Fame receiver turned NFL Network analyst Michael Irvin had conflicting feelings after seeing Greg Hardy's sideline tirade late in Sunday's 27-20 loss to the Giants.

On the one hand, Irvin understands well that football is an emotional game, full of emotional players--he used to be one, and one of the more openly emotional players you'll ever see, not too long ago.

On the other, Irvin wishes Hardy would show some understanding of the scrutiny he's playing under, or at least recognize that he has been with the Cowboys for all of two regular season games, which probably isn't long enough to establish oneself to the point of it being OK when they slap a clipboard out of an assistant coach's hand.

"I'm on both sides of it. I understand the passion of football is very important and everything. I truly understand that because I played with emotions and passion," Irvin told 105.3-FM The Fan, via the Dallas Morning News. "But I also understand the other side. You wish that you saw some semblance of a better understanding from Greg Hardy. That's just the reality of it. And if you see some semblance of an understanding, it's when you feel comfortable, oh I know you don't have to worry about that situation again. But the attitude that you're getting, it makes you like, wow. If the bell hasn't rung and you don't get it, then maybe you'll be in that situation again. And I don't know that whoever's talking with Greg Hardy, I don't know that they have enough of whatever they need to actually bring these things up to Greg Hardy.

"I just think somebody needs to talk to him about it all. It's your second game. I'm all up for you wanting to get your guys going, you need to get everybody going. But it's your second game, man. It's your second game with the Cowboys. Let's not be slapping boards out of the coach's hands right now. Let's not be in a place where we're not willing to listen to the guys around me that are my new teammates. People have a right to be upset with it."
Copyright FREEL - NBC Local Media