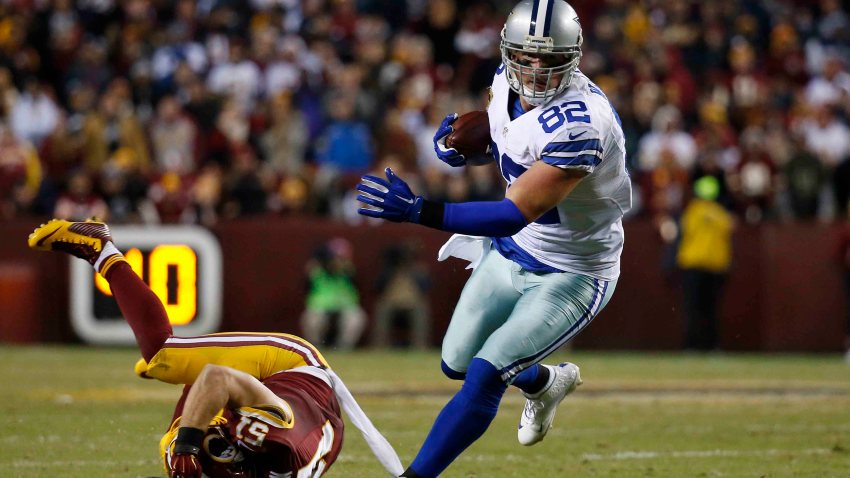 After the Dallas Cowboys' 19-16 victory over the Washington Redskins on Monday Night, in which tight end Jason Witten joined Tony Gonzalez as just the second tight end in history to record 1,000 career receptions, Dez Bryant made clear just how much he and the rest of Witten's teammates think of the veteran.

"He's a Hall of Famer, first ballot," Bryant said, per the Dallas Morning News. "We all know that. He deserves it. He's a beast. A lot of us have learned from that guy. Hats off to him."

Witten's 1,000th was a seven-yard grab midway through the second quarter. He finished with 45 yards on five catches.

"I was happy to get it," Witten said. "It's been an amazing career for me and to be able to have it up here against Washington, a division opponent, I'm just humbled by joining that list of names, some of the best players to have played the game.

"That was kind of my play, a little stick route. I don't think Matt had any (idea) what was going on. It needed to be a first down, and probably nothing pretty about it. That's the way I would want it, just a nice first down and keep the chains moving."

The Cowboys' sideline crew made sure to get Witten the ball used on the historic play.

"I'll make sure to keep that one and not let my kids play with that one in the garage, put that one in a safe place," Witten said.
Copyright FREEL - NBC Local Media