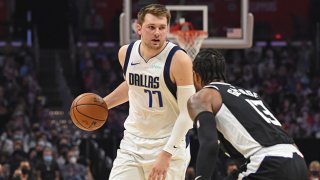 As expected, 22-year-old Mavericks superstar Luka Doncic on Monday verbally agreed to a franchise-record five-year, $207 million supermax rookie extension, hours after a large Mavericks contingent arrived in Doncic's Slovenian hometown to hand-deliver and celebrate Doncic and his megadeal.
Doncic's agent, confirmed the agreement, which will formally be signed during an 8 a.m. Tuesday (Dallas time) news conference in Ljubljana, Slovenia that will stream on Mavs.com.
The extension will kick in after the 2021-22 season, the last year of Doncic's four-year rookie deal. Doncic's $10.2 million salary in 2021-22 will catapult to $35.7 million in 2022-23. A source said the extension's fifth year, 2026-27, in which Doncic is scheduled to make $47.1 million, is a player option.
The previous Mavericks record for largest contract value is the five-year, $158 million deal that Kristaps Porzingis signed in 2019.
For more on this story check out our media partners at The Dallas Morning News.
Copyright The Dallas Morning News