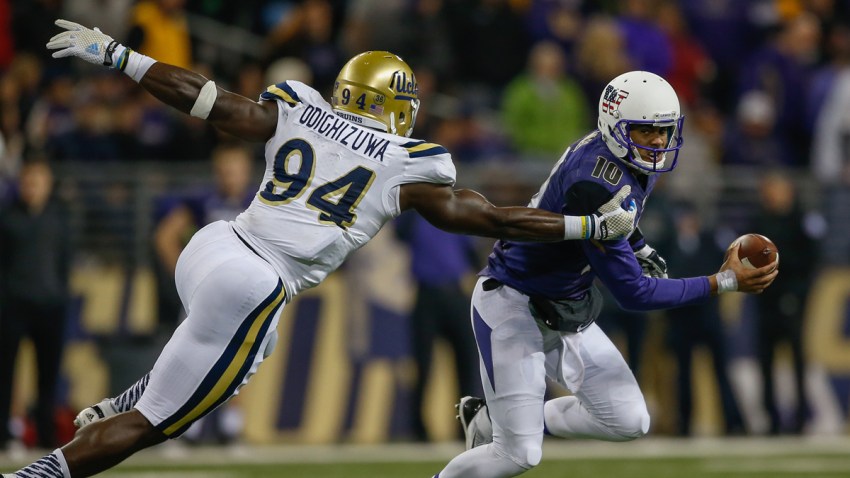 Owamagbe Odighizuwa, EDGE, UCLA
Ht. 6034, Wt. 267, Arm: 33 3/4", Hand: 11", Bench: 25
40 yd: 4.62, 10 yd.: 1.62, 3 Cone: 7.36, Vertical: 39", Broad: 10'7"
Games Watched: Texas, Arizona St., USC
If you think other games better reflect this player's ability or you want to request a profile on a specific player, email me or hit me up on Twitter.
The 2015 NFL Draft is deep in edge defenders, so the Cowboys can get good value at pick No. 27. UCLA's Owamagbe Odighizuwa, (pronounced oh-DIG-gee-zoo-wah) falls into the second tier at that position.
Sports Connection
Connecting you to your favorite North Texas sports teams as well as sports news around the globe.
After missing the 2013 season to recover from two hip surgeries, Odighizuwa worked his way into the first-round discussion with a strong 2014. He posted 6 sacks and tied for the team lead with 11.5 tackles for loss to earn second-team All-Pac 12 honors.
Strengths
Let's start with Odighizuwa's vines for arms and heavy hands. When he uses them well, and he usually does, he disengages opposing offensive lineman at will. The help him set the edge well against the run and work around offensive tackles against the pass.
People might point to his ordinary stats as a negative, but don't let them fool you. Odighizuwa lived in the backfield in 2014. Against USC, he was virtually unblockable by both offensive guards and tackles. He flashes great burst and closing speed as well as the ability to "get skinny" in gap penetration.
In terms of board value, team need and scheme fit, Odighizuwa might be the best bet for the Cowboys at No. 27. He's a perfect 4-3 over defensive end, but he looked even better when he faced off against guards as a 3-Technique on obvious pass downs.
Weaknesses
Teams must do thorough medical evaluations on Odighizuwa, because the hip injuries have to be concerning. A recurring injury or degenerative condition could end his career quickly.
Odighizuwa isn't elite physically. He needs to put on about 10 good pounds to have the strength to reliably set the edge in the NFL. His lack of consisted burst might keep him on the left side of a defense, which decreases his value some.
The potential is there, but he still don't show the technical consistency you want to see out of a first-round pick. His play improved as the year went on, which suggests it was related to coming off a missed year, but it's still a concern.
Verdict: Fringe First Rounder
Odighizuwa played better as he move further from his lost season, culminating with the game against USC where he looked like a sure first-round pick. He would be an ideal fit as a strongside defensive end for Rod Marinelli and a perfect complement to DeMarcus Lawrence.
With his size, speed, violent hands and difficult-to-pronounce name, Odighizuwa earns comparisons to Falcons defensive end Osi Uminyiora. He's not a surefire first-round value, but need and fit make him worth the 27th overall pick.