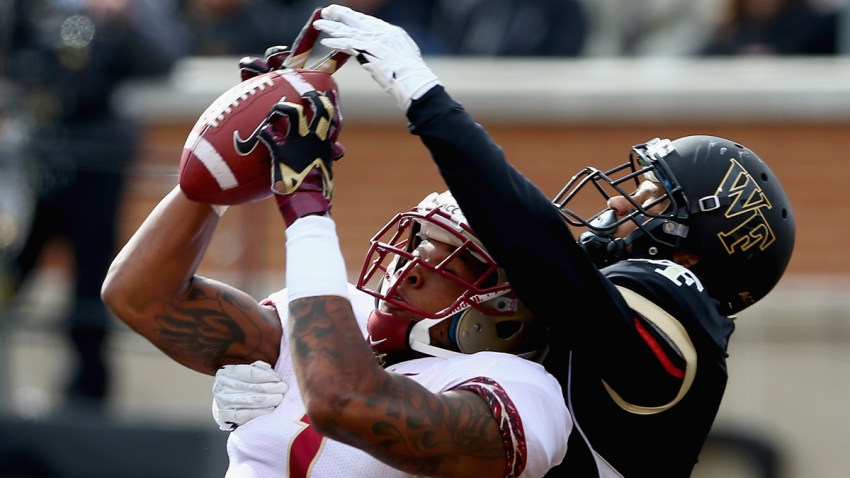 Kevin Johnson, CB, Wake Forest
Ht. 6002, Wt. 188, Arm: 31", Hand: 8 3/8", Bench: -
40 yd: 4.52, 10 yd.: 1.60, 3 Cone: 6.79, Vertical: 41.5", Broad: 10'10"
Games Watched: Clemson, Virginia Tech, at Florida St.
If you think other games better reflect this player's ability or you want to request a profile on a specific player, email me or hit me up on Twitter.
The more players I look at, the more I think the Cowboys are picking outside the top tier of prospects. In other words, they'll probably have to move up, hope a player falls or pick a player that kind of bridges the top two tiers.
Sports Connection
Connecting you to your favorite North Texas sports teams as well as sports news around the globe.
Wake Forest cornerback Kevin Johnson might be the answer. He flew relatively under the radar until the latter part of the 2014 season, but he's not under the radar anymore. He earned second-team All-ACC honors last season and allowed only 24 receptions on the season.
Strengths
Johnson is a technician. From smooth, efficient feet to fluid hips, he's the closest thing to a finished product in this draft. He also showed veteran savvy, "leaning" receivers toward the sideline.
Johnson might have a slight frame, but he doesn't shy away from contact. He's a willing and effective tackler, but he's also capable of making big hits.
With his height, jumps and three-cone time at the combine, Johnson showed off NFL measurable. Combine them with his coverage technique, and you have a Day 1 starter on Sundays this fall.
Weaknesses
Johnson's desire to make splash plays borders on "too aggressive" at times. He's always looking to jump a route, leaving him susceptible to double moves. Plus, he has a tendency to be a little handsy downfield.
Johnson is physical at times, but he looked like he couldn't fight off a block to save his life. He had trouble disengaging from nearly every opponent, so he seems to be a liability on outside runs and bubble screens.
For as technical as he is, Johnson has a few too many lapses in judgment. He occasionally gets caught looking in backfield in man coverage, creating separation against lesser receivers. He was also flagged for one targeting penalty that I saw and he could have earned another.
Verdict: Fringe First Rounder
When watching Johnson's college tape, I felt like I was watching a young Asante Samuel. They have similar frames and they both play with the same feisty, aggressive style.
It's been a while since such a finished product came along at cornerback, but that also raises concerns about his upside. I'd slot Johnson between the Marcus Peters and Jalen Collins tiers and say he's worth the 27th pick if the top linemen and running backs are gone.